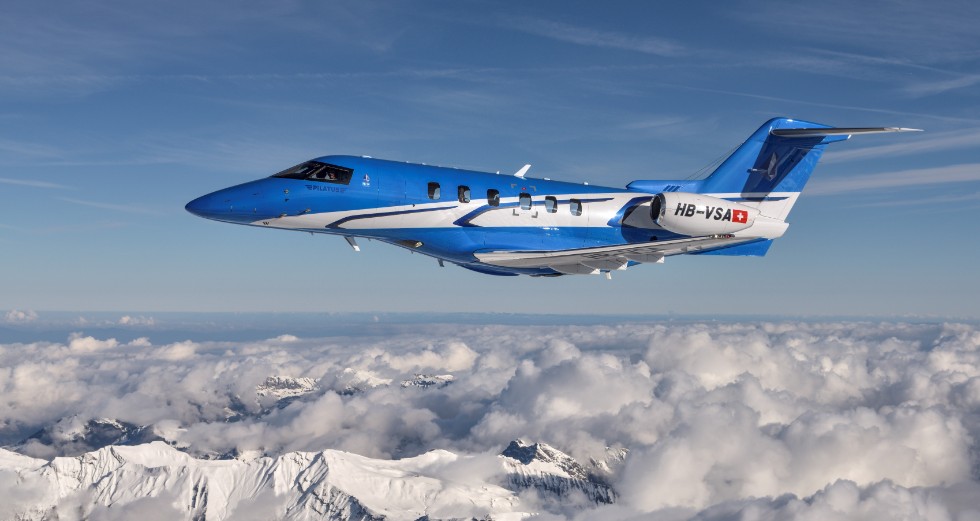 Pilatus PC-24 Overview
With its first delivery in February 2018, the Pilatus PC-24 was the most versatile and advanced Light Jet on the market upon release.  Pushing the boundaries of the Light Jet class in range, size, and performance, the PC-24 was one of the most highly anticipated aircraft releases of the decade.
Proving their worth with the incredible Pilatus PC-12, Pilatus Aircraft of Switzerland looks to once again take the business aviation world by storm.  Savvy flyers are already requesting Pilatus PC-24 charter flights, as the aircraft is equipped with the latest features and technology, and offers unbeatable performance specs with a traditional Light Jet operating cost.
Pilatus PC-24 Interior
The PC-24 has the largest cabin in the Light Jet class, at 190 sq. ft. more than the impressive Citation CJ4. It carries up to 8 passengers with several seating configurations that can be altered easily for your party's comfort.  At 23 feet in length, the PC-24 is longer than almost every Midsize Jet on the market.
Seats in the PC-24 are made with a comfortable leather trim.  There is also 5'1" of headroom, 90 square feet of baggage space, and several modern upgrades such as towel warmers and smartphone storage.
Pilatus PC-24 Performance
Although most fliers charter a Pilatus PC-24 for its massive and comfy interior, its power and performance cannot be overstated. Despite its larger size, the PC-24 requires only 2,810 feet of runway space – far fewer than the others in the class, making it capable of reaching more remote airports. It also needs even less runway for landing. It is also one of the only aircraft in the class capable of landing on unpaved runways.
Its two Williams FJ44-4A turbofan engines have a range of 2,035 miles with a cruise speed of a little over 500 miles per hour, at a max altitude of 45,000 feet.  The Pilatus PC 24 has all of the latest in aircraft research behind it, making it one of the best flights for both pilots and passengers. Book a Pilatus PC-24 charter today with evoJets.
Photos courtesy of Pilatus Aircraft.