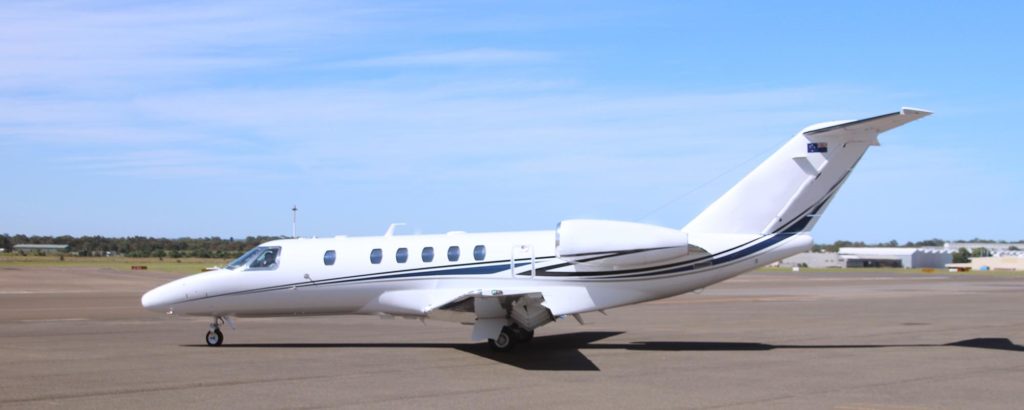 Citation CJ4 Overview
The fairly new to production Cessna Citation CJ4 is basically a stretched and updated version of the Citation CJ3. It seats six passengers comfortably and has accommodations for an endless list of gadgets to keep travelers entertained and connected via the new Venue Cabin Management System by Rockwell Collins.
Citation CJ4 Interior
Passengers on the CJ4 will appreciate the six large, sumptuous seats with dual-axis tracking and wide-range reclining options in a club-and-a-half seating arrangement. Room for these wide, ergonomic seats comes from the 4 inch increase in floor space width over the previous CJ model. The CJ4 cabin is also nearly two feet longer than that of the CJ3. One or two more passengers can find room on board by way of a seventh individual seat across from the door, an optional two-place sofa in the same place, or the aft belted lavatory which offers a sliding divider door for privacy.
The CJ4's Venue Cabin Management System offers a wide variety of entertainment and communication/connection options. Among the features are XM radio, a CD and hi-def Blu-Ray DVD player, an auxiliary AV port for iPod, other mp3 player, or laptop use, seat monitors, moving maps, and other electronic device options. Electronic controls at each seat also provide management of the cabin window shades and individual lighting and temperature systems. The cabin also offers a couple other basic amenities, such as a forward closet, two Axxess Aircell satellite telephones, and a refreshment center with storage drawers, an ice chest, and a heated liquid container. External luggage compartments offer a capacity of 76 cubic feet or 1000 pounds of weight. External upgrades to the CJ4 include adoption of the Citation Sovereign's moderately swept wing and a scaled-up T-tail.
Citation CJ4 Performance
The aircraft is powered by two Williams International FJ44-4A engines with full authority digital engine control (FADEC). The CJ4 maintains the CJ line's reputation for performance, with the ability to land on runways of only 2,665 feet. The flight deck of the CJ4 is equipped with the Rockwell Collins Pro Line 21 avionics suite. Its upgrades include flight management system (FMS) v4.0, WAAS (wide-area augmentation system) capability, and an IFIS (integrated flight information system).