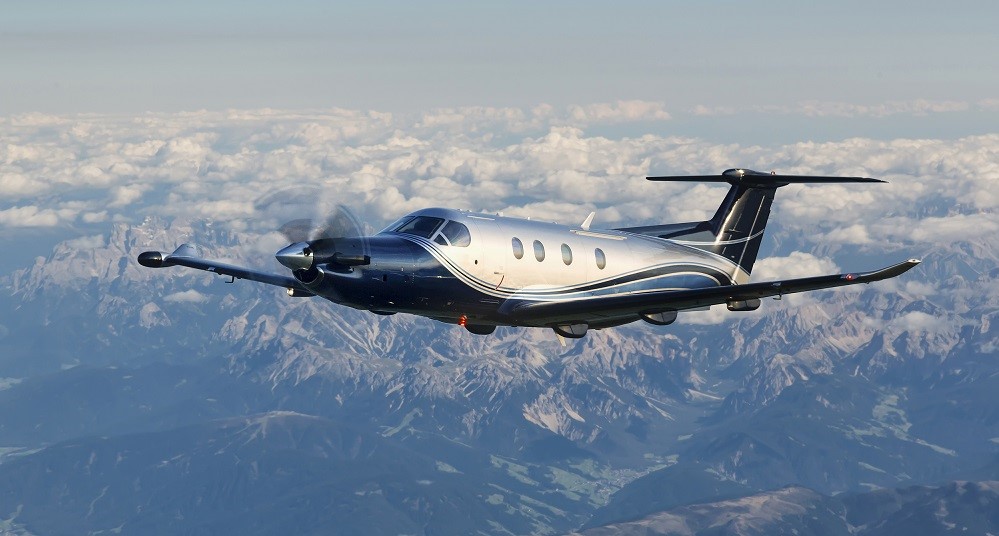 Pilatus PC-12 Overview
Manufactured by the Swiss company Pilatus, the PC-12 is a six to nine seat turboprop comparable to the King Air 350 twin-engine in many major categories. The PC1-12 was designed with capabilities for combining passenger seating with cargo delivery, as evidenced by its roomy interior and extra-wide cargo bay door.
With hundreds of PC12's certified in the US today, this efficient and versatile aircraft has become the most widely used turboprop for air charter of the past decade. Pilatus PC-12 charters are great for short trips and beyond, due to the aircraft's roomy cabin and quiet flying experience.
Pilatus PC-12 Interior
The PC 12's roomy cabin can be arranged in several ways to fit customer needs. Up to eight executive seats can be grouped in double-club configuration for in-flight business, or rearranged for private rest. Some aircraft may employ a two or three-seat bench in place of two seats. The cabin is equipped with fitted cabinets and tables.
Should travelers require fewer seats and more space for cargo and luggage, combination arrangements can be set up by using available anchor points and cargo nets with the combi-conversion kit. The baggage area is accessible during flight.
The extra-large cargo door allows for fast loading and unloading of large baggage items and irregular items like golf clubs, skis, and wheelchairs. This handy feature can be a major plus for certain missions.
Pilatus PC-12 Performance
The cabin is not the only dynamic aspect of the PC 12. The aircraft is capable of using grass and unfinished runways of varying lengths, and is certified for single-pilot operation and flight in known icy conditions.
A single Pratt & Whitney Canada PT6A-67B turboprop engine powers the PC 12. Pilatus has recently introduced an updated version of the aircraft, calling it the PC-12/NG (for next generation), that runs on the more powerful Pratt & Whitney PT6-67P engine. This provides the NG with a higher maximum cruise speed and improved climb performance. Other upgrades for the PC-12/NG include enhanced Honeywell Primus Apex integrated avionics, an automatic cabin pressure control system, and a dual-zone temperature control system.