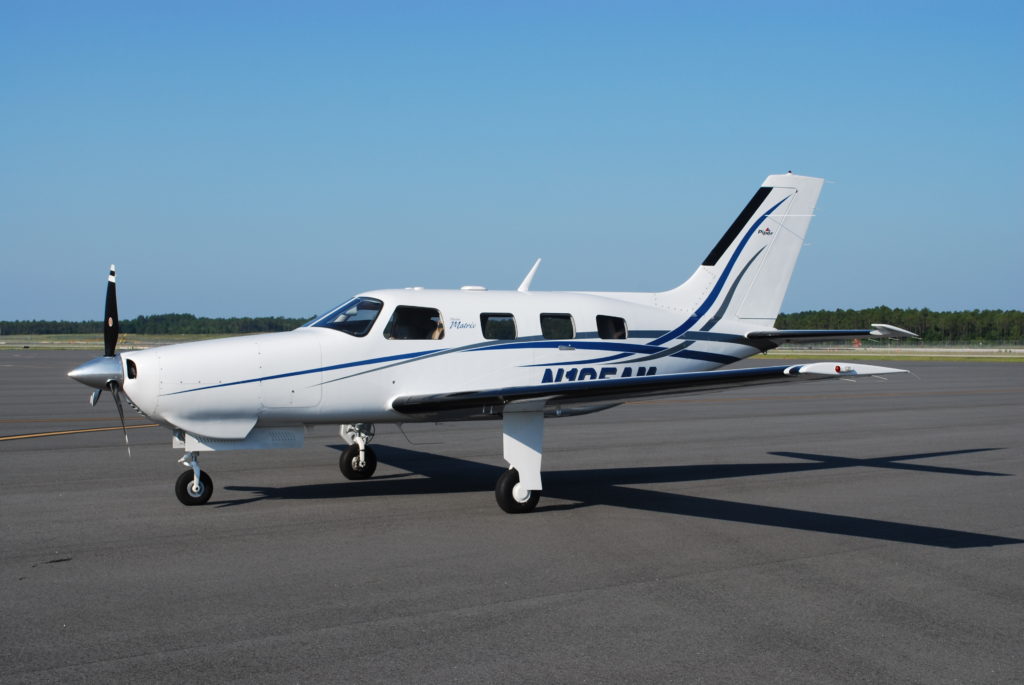 Piper Matrix Overview
The Piper Matrix is a depressurized version of the Mirage, with the same engine and similar performance specifications. The depressurization allows for lower operating costs while still maintaining a very comfortable cabin which typically seats from 4 to 8 passengers.
Piper Matrix Interior
As a 4-place aircraft, the cabin-class Matrix offers travelers luxurious space to stretch out. The cabin includes a very nice air stair door entrance, a central aisle in the cabin, and comfy, leather club-seating. Passengers will find access to individual reading lights and air vents, a power supply for a laptop, and a built-in work station which folds seamlessly into the side panel. If travelers require only three passenger seats, some aircraft may accommodate a refreshment center in place of one of the forward seats. The aircraft also offers both internal and external luggage space with room for about 100 lbs. behind the rear seats, and 100 lbs. in the nose baggage compartment.
Piper Matrix Performance
The airframe and the engine of the Piper Matrix are the same as that of the Mirage. The 350 hp dual turbocharged Lycoming TIO-540-AE2A engine gives the aircraft a cruise speed of 245 mph and, at long range cruise speed, a range of 1547 statute miles.
On the flight deck, the Matrix has a modern flat-panel avionics package – the Avidyne Entegra glass cockpit – with a pair of Avidyne 10.4-inch flat-panel displays, two Garmin GNS 430W navigators, the S-Tec 55X rate-based autopilot, plus a Garmin Mode-S transponder and Garmin audio panel.