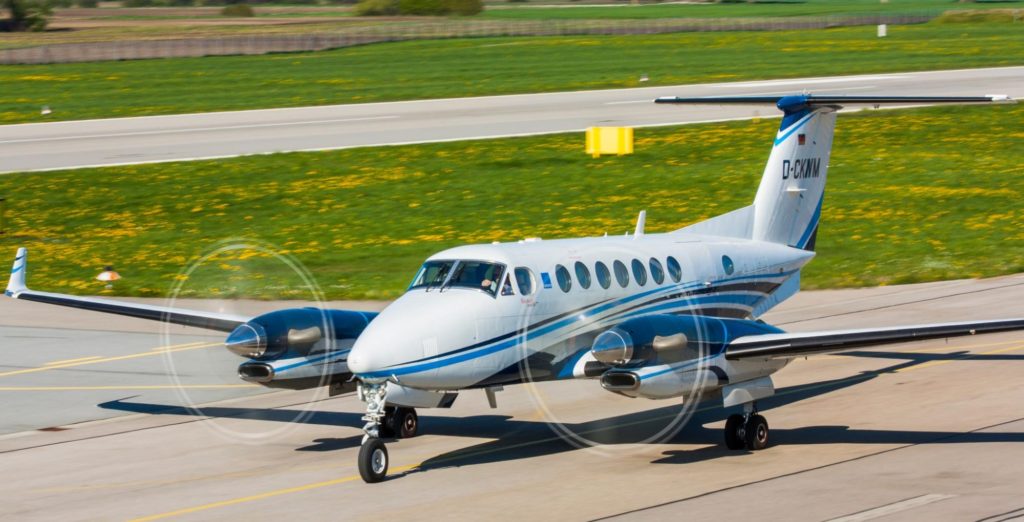 King Air 300 Overview
Originally known as the Super King Air 300, the Raytheon/Hawker Beechcraft King Air 300 was designed as an upgrade to the successful King Air 200 series. The improved aircraft comfortably seats eight to nine passengers with numerous aerodynamic upgrades and increased performance specifications.
Charter a King Air 300 with evoJets for your next flight from New York to Nantucket, or similar short-range trips like Denver to Aspen or LA to Vegas. This aircraft has more space than most Light Jets for a fraction of the price.
King Air 300 Interior
The cabin of the King Air 300 is luxurious and spacious, offering passengers a built-in refreshment center with soft leather seating and retractable worktables for greater in-flight productivity. Travelers may also take advantage of a private aft lavatory, and the baggage area is accessible during flight. Each side of the fuselage has 5 cabin windows, providing plenty of natural light and viewing angles for passengers.
With 348 cubic feet of cabin volume and room for up to nine passengers, the King Air 300 offers a larger cabin than popular Light Jet charter options like the Citation Bravo, Beechjet 400/A and Citation CJ2.
King Air 300 Performance
The main improvement of the King Air 300 over its predecessor is the addition of the more powerful PT6A-60A turboprop engines, rated at 1050hp, in place of the 42s of the earlier model. These engines were installed inside reprofiled and more aerodynamically clean "pitot" cowlings, known as such due to the reshaped engine air intakes. Other changes included redesigned exhausts and extended wing leading edges. These changes increased the aircraft's aerodynamic effectiveness, allowing the King Air 300 to cruise at speeds up to 315 knots – or 362mph – with a maximum range of 2254 statute miles. Both empty and maximum takeoff weights were also increased in the updated design.
The new changes also included upgrades to the internal avionics. The King Air 300 is recognizable by its low and straight wing, and two wing-mounted, four-bladed turboprop engines. The aircraft also incorporates a swept T-tail with swept horizontal stabilizer.