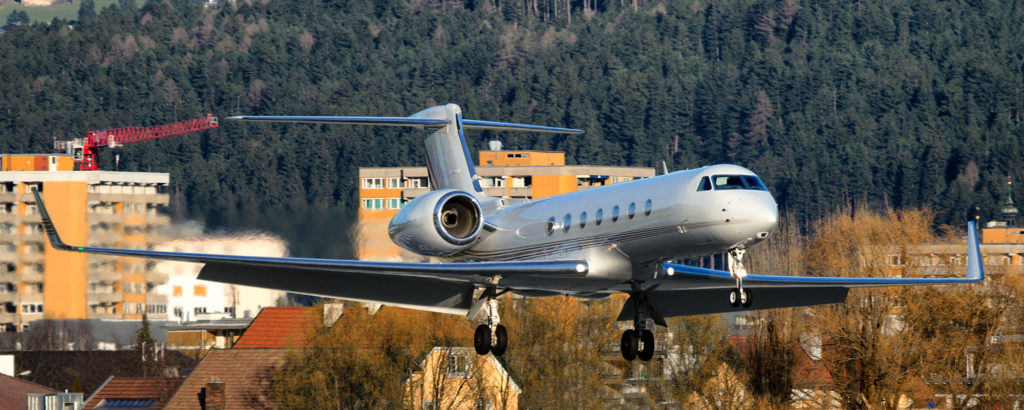 Gulfstream G-V (G-500) Overview
The Gulfstream G-V was one of the most highly anticipated releases in the long line of Gulfstream heavy jets. With major upgrades to the G-IV and G-450, the G-V was easily the best long-range business jet upon release. With upgraded size, speed, pilot interface systems and passenger multimedia functionality, the G-V is a highly sought after aircraft in the charter market today.
Charter a Gulfstream G-V with evoJets and enjoy a Wi-Fi equipped, business-ready environment with a dedicated cabin attendant. From end to end, your charter experience in this premier long range Heavy Jet will be spectacular.
Gulfstream G-V (G-500) Interior
The Gulfstream G-V is the ideal choice for travelers who desire separate areas for dinner, entertainment, work, or rest. With a large cabin to hold these zones, passengers can enjoy plenty of space and a variety of seating arrangements for 8 to 18 passengers.
The cabin of the G-V offers a choice of six different configurations, each with up to four distinct areas, as well as three separate temperature zones, and numerous amenities that reinforce in-flight productivity and absolute rest and respite. All arrangements include a combination of cozy club seats, divans, and conference or dining areas, and maximum berthing can be prepared for up to 6 travelers.
The cabin environment is enriched by a fresh air system, sunlight streaming through 12 oval windows, and an entertainment system including an Airshow info system, DVD and CD players, and two LCD monitors. The cabin also features a full-sized galley for fresh meal services, which may be located either forward or aft of the cabin seating area depending on the aircraft, and a spacious lavatory with shower.
Gulfstream G-V (G-500) Performance
The engines of earlier G-V models have been updated with newer BMW/Rolls Royce BR-700-710-C4-11 turbofan engines, and the G-V also uses a new wing with a wider span. These new features provide the aircraft with an extra-long range, spectacular takeoff performance, and a higher flight ceiling. The G-V can easily make such lengthy trips as Los Angeles to Tokyo or London to Johannesburg while providing the ultimate comfort and productivity environment.
Earlier G-Vs use the Honeywell SPZ-8500 avionics system, which includes the Primus 2000 and SPZ-8000 systems. The Gulfstream PlaneView cockpit, which employs the next-generation Honeywell Primus Epic integrated avionics suite, is the upgraded avionics package available in later productions of the G-V.