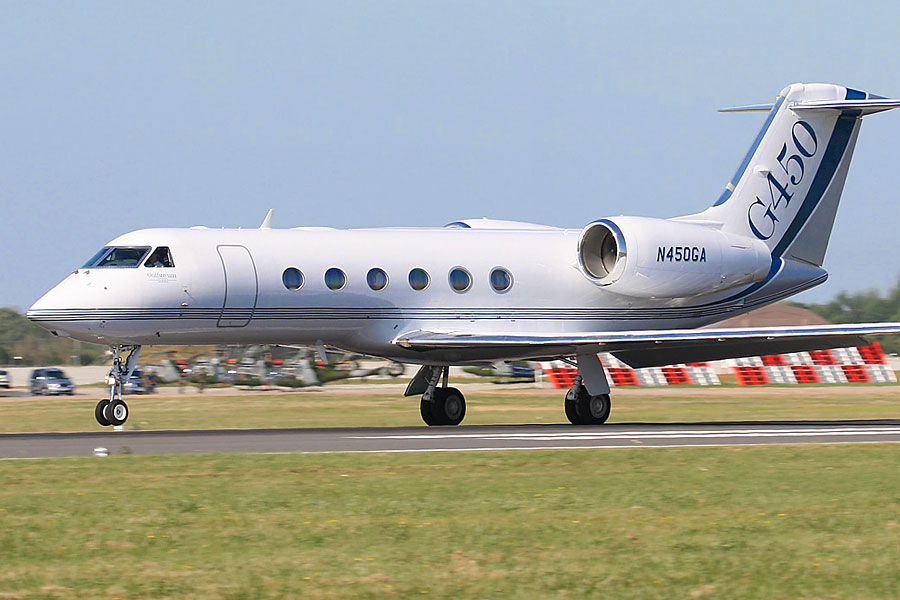 Gulfstream G-450 Overview
The Gulfstream G-450 is an upgraded heavy jet with similar seating arrangements to its predecessors, the G-IV and GIV-SP. With impressive range and a typically long Gulfstream cabin, the G-450 is an intercontinental aircraft that comfortably seats up to 16 passengers.
Gulfstream G-450 Interior
The G-450's cabin provides ample space for travelers of all shapes and sizes. At maximum seating capacity, the G-450 can hold up to 16 passengers, with an optional berthing arrangement for six. Two improved cabin features are the repositioned main entrance door for improved access to the cabin, and the use of an advanced soundproofing system for greater overall passenger comfort.
Other interior amenities may include individual entertainment systems, office equipment including satellite communications, a wireless local network, and a fax machine and printer, and a full-sized forward or aft galley with fitted storage areas for utensils, a water-sterilization system, and dual coffee makers. Both a forward and aft lavatory are standard aboard the G-450 cabin.
Gulfstream G-450 Performance
Two upgraded Rolls Royce Tay Mk 611-8C turbofan engines power the G450, giving it incredible statistics, plus greater fuel efficiency and lower operating costs than its predecessor. The aircraft has set new speed records, operating at a maximum speed of Mach 0.88 or 581 mph. The G450 also has an increased intercontinental range of up to 5018 miles, making such flights as Dallas to Paris or Honolulu to Denver easy and comfortable.