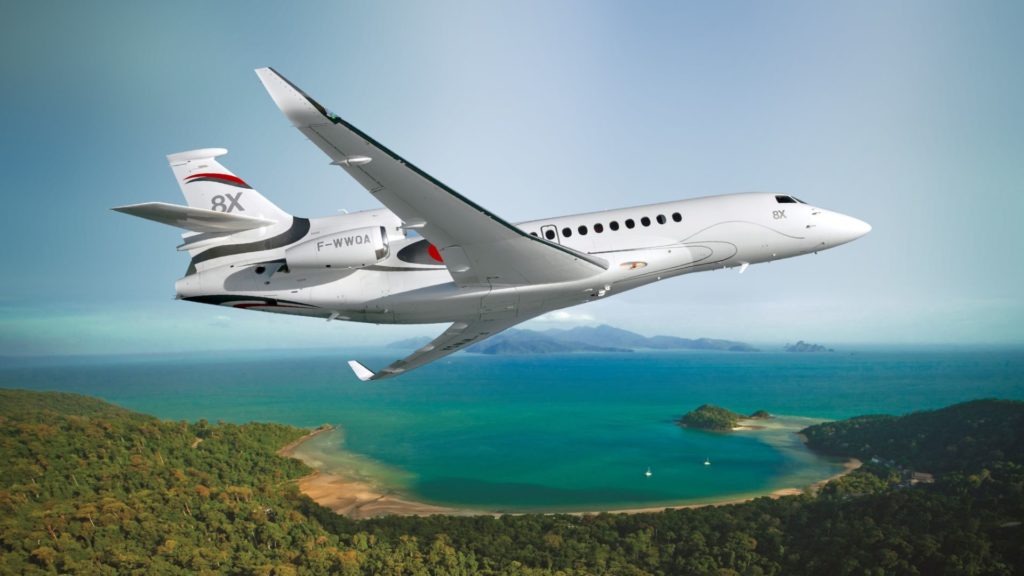 Falcon 8X Overview
During October 2016, the Dassault Falcon 8X burst into the industry. Labeled as a sub-series of the Dassault Falcon 7X, this high-performing private jet quickly became one of the most desired planes for those who charter private aircraft.
The Dassault Falcon 8X stretches previous boundaries with a larger cabin, while remaining more efficient than its competition. This ultra-long-range aircraft improves on an already luxurious line of jets. The Falcon 8X has a service ceiling of 51,000 feet, allowing it to fly faster, using less fuel. That height puts it above most turbulent weather, providing passengers with as smooth a ride as possible.
A special feature present in this aircraft improves crew operations. Due to the increased space, there is a designated private crew rest area. This ensures pilots and cabin attendants aren't running on fumes, providing passengers with the highest level of customer service and performance.
The Dassault Falcon 8X is the best of the best in the falcon family, it's the winner above all else. Charter a Falcon 8X and experience unparalleled luxury—this private jet is fit for a king, for the high-level executive, for the international superstar, for those who deserve nothing less than the best. The Falcon 8X caters to every need, on every whim. Various organizations and news sources have recognized the performance and ability of this aircraft with high honors.
Falcon 8X Interior
Comfortably accommodating 12 passengers with 3 crew members, the Dassault Falcon 8X interior is the definition of luxury air travel. It offers plenty of room for passengers to stretch their legs throughout the duration of 12-14 hour journeys, ensuring they are refreshed and ready to go upon arrival.
When it comes to a luxury interior and getting what you pay for, the Falcon 8X interior exceeds all expectations. With over 30 potential layouts, each traveler will receive the exact design they could hope for, ensuring customer satisfaction. Additionally, this private jet can carry a massive amount of baggage both in the designated compartment and in the cabin, accommodating nearly 19 pieces of luggage.
The Falcon 8X interior technology is next level. Equipped with all the most advanced solutions, passengers can control the cabin from the tap of a finger through an app on their phones. This private jet will not disappoint as it will continuously exceed customers expectations each time it's put to the test.
Falcon 8X Performance
The Dassault Falcon 8X is equipped with three Pratt & Whitney PW307D engines. The third engine really pushes it forward, giving it that extra something to perform above its competition. It aids in a higher level of fuel efficiency. The Falcon 8X has a maximum cruise speed of roughly 400 knots. Elevation is no deterrent of this aircraft with its strong, steep climb rate. This opens up a variety of airports with topography such as Colorado and the Swiss Alps.
The Dassault Falcon 8X's range is dependent on a variety of factors. A major influence on efficiency is weather and the weight it is transporting. That being said, the typical Falcon 8X can cover a distance of nearly 6,500 nautical miles. The Dassault Falcon 8X is ideal for business trips for those in international work. This aircraft shines on long stretches between major cities across the world, such as Hong Kong to Paris. This ability provides easy access for routes typically difficult on the frequent flyer.