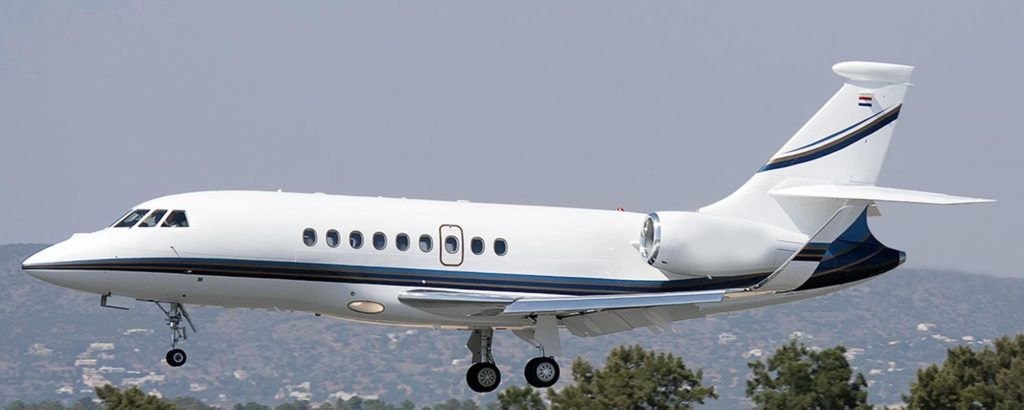 Falcon 2000EX Overview
The Falcon 2000EX is the extended range version of the Dassault Falcon 2000. It too can seat 8 to 12 passengers in a wide and roomy cabin with fairly similar amenities. With a wide body and high ceilings, this business jet is a great choice for long range trips carrying 7-10 passengers, where the length and number of seats offered by other long-range aircraft isn't necessary.
Falcon 2000EX Interior
The 2000EX cabin boasts seats that can combine and flatten into comfy spaces for sleep. The aircraft can hold 131 cubic feet or 1600 pounds of baggage. Most Falcon 2000EX are equipped with WiFi and enhanced multimedia capabilities, which will vary by aircraft.
The wide/tall body of the Falcon 2000EX is ideal for groups of under 10 passengers, as alternative aircraft like the Gulfstream GIV will offer a much longer cabin for additional seating without the height and width of the Falcon.
Falcon 2000EX Performance
The more powerful Pratt &Whitney PW/3087/C turbofan engines of the 2000EX and its extra fuel capacity provide the aircraft with greater range while maintaining the good fuel economy of the Falcon 2000. The 2000EX comes with landing gear and a braking system designed for heavier duty to handle its increased weight. The first 2000EXs were produced with the same avionics as the 2000, but they have since been upgraded to the Honeywell EASy Enhanced Avionics System.
Further additions to the Falcon 2000 line-up include the 2000DX and 2000LX. The DX replaces the basic 2000 using the engines and EASy avionics of the 2000EX but with the range of the original aircraft. The LX is similar but again with a greater range, assisted by the addition of blended winglets designed for higher fuel efficiency, and reinforced wings.
Image Credits: Pedro Aragão / CC BY-SA 3.0