Early spring is a unique season for private travel. Some parts of the country are still cold, barely overcoming the winter frosts. Other parts of the country are hot and muggy, unpleasant even this early in the year. But some parts of the country – and indeed, some parts of the world – are stunning in spring, with perfect weather, ample activities, and a host of luxury accommodations to make for a great vacation.
Early spring is also one of the few times during a typical school/work year that there is some time off. Easter usually falls around this date, as does spring break, which gives everyone from students to families to executives a chance to go on an adventure with minimal scheduling inconveniences.
But where should you go?
Top Domestic Spring Break and Easter Private Jet Destinations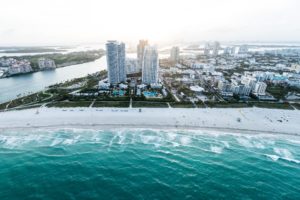 The fastest, most comfortable way to find a direct flight to your ideal destination is with a private jet charter for your Easter or spring break experience. With space for any size group and an opportunity to travel all together without the hassles of traditional commercial airliners, a private jet charter for spring break is the ultimate way to see any destination, including the following popular locales:
Private Jet Charter Flights to Miami
Miami is the party capital of Florida, with flawless warm weather in April, an almost limitless amount of activities, and a culture that is designed for a great time. Although it is still great for families that may want a short Easter weekend trip, this time of year, Miami is perhaps the best choice for a spring break private jet charter for college students and young adults looking for a place to socialize and tan.
Private Jets to New York
New York City's culture, cuisine, and activities make it a phenomenal place to visit all throughout the year. But the weather is like the porridge in the Goldilocks fairy tale – too hot, too cold, or just right. April is one of the few "just right" times of year, when you and your family can fly a private jet charter on Easter weekend to enjoy all that NYC has to offer.
Jet Charters to Aspen
Aspen is known for its winter sports activities. But it is actually a 365 day a year vacation destination, and April is a great time to experience it. Great for families, Aspen was made for luxury living, and those looking to hit the refresh button on their energy levels often find that Aspen is a great place to do it. Charter a jet to Aspen this Easter!
Private Jets to Lake Tahoe
Lake Tahoe is simply beautiful. It is an escape that provides a bit of a remote feel with activity potential for those of all ages. It doesn't quite have that party vibe that some college students may be seeking, but it does have stunning lakes and beaches, lively casinos, plenty of upscale restaurants and hidden gems for those that need a bit of privacy. A spring break or Easter private jet charter to Lake Tahoe can also help you skip the windy roads.
Private Jet to Las Vegas
Las Vegas may not have the beaches, and it is not (always) considered family friendly, but Las Vegas is perhaps the most lively and active luxury-focused city in the entire United States, especially if your goal is a raucous good time. Chartering a spring break private jet to Las Vegas starts the trip off right.
Top International Private Jet Charters for Spring Break
Of course, one of the advantages to private jet travel is that you can visit anywhere that meets your fancy, even if it is well outside of the US border. The following are five of the dozens of potential international destinations that are perfect this time of year:
Charter a Jet to Cabo San Lucas – One of the most popular college student spring break destinations, Cabo has warm weather, deluxe hotels, and plenty of flowing drinks.
Private Jets to Puerto Vallarta – High end with activities for both college youth and families, Puerto Vallarta is a gem of a coastal city during the spring season.
Charter Jets to Bahamas – Like Puerto Vallarta, the islands of the Bahamas are genuinely something to enjoy, with beautiful white sand beaches and plenty of relaxation opportunities. Depending on your departure location, it may even be a great weekend trip.
Private Jet to Punta Cana – Punta Cana has some spectacular beaches, and it is one of the premier destination spots for private jet charters for spring break.
Private Planes to Langkawi – Perhaps you'd like to take a trip to your family to a more exotic location? Langkawi in Malaysia is ideal this time of year, with great beaches and privacy to take your family for a week or two.
Each of these touches on all the different characteristics that people look for in a spring break vacation.
Charter a Private Jet for Easter or Spring Break with evoJets
This time of year is great for travel, with destinations that have the ideal weather, cuisine, and potential for memorable experiences that will make your spring break or Easter weekend special. Charter your private jet today with evoJets.