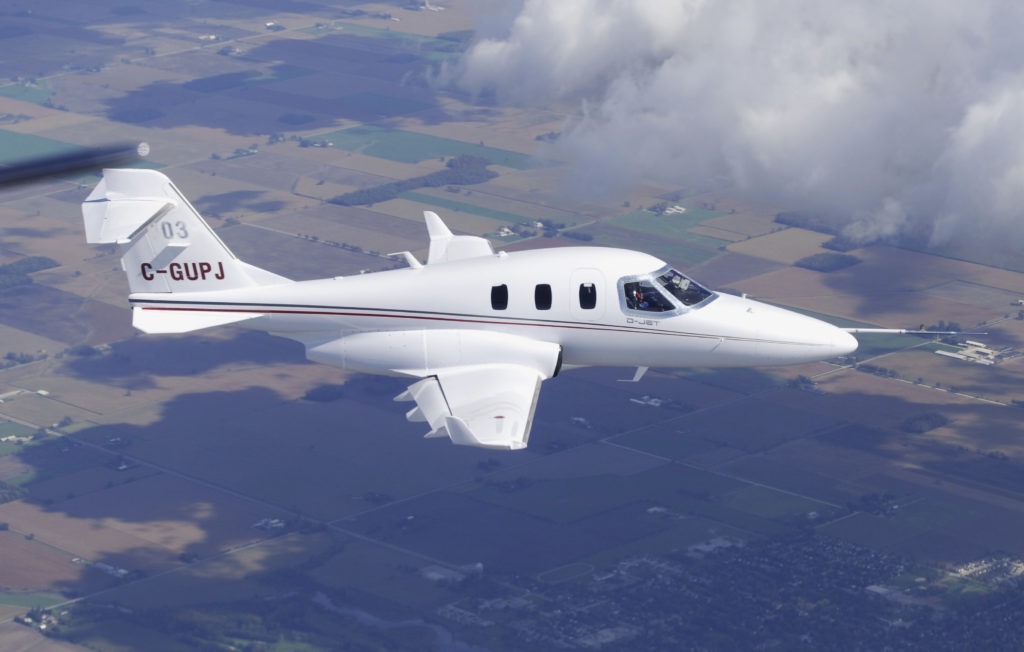 Diamond D-Jet Overview
The Diamond D-Jet is considered a very light jet (VLJ) and is produced by Diamond Aircraft Industries. It is a composite, five-seat, single-engine jet aircraft which typically seats four to five passengers. This suave aircraft features a luxurious cabin and the latest in cockpit and powerplant technology.
Diamond D-Jet Interior
The cabin of the D-Jet is lush, open, and quite spacious, with a seating configuration of two plus three. The rear bench comfortably accommodates three people or offers first class comfort for two. This bench folds down in a 60/40 design and is made of the highest quality leather in a style that rivals the finest luxury automobiles. The D-Jet seating arrangement offers fantastic legroom, giving passengers the space and comfort of a more expensive aircraft. The standard vapor cycle air conditioning allows the aircraft to be pre-cooled prior to boarding and ensures that passengers travel in comfort. There are three cabin windows on each side to let in plenty of relaxing natural light.
Baggage capacity aboard the Diamond D-Jet is flexible and spacious, allowing more gear than other aircraft. There is a large aft luggage compartment for long items and dual nose compartments for other large baggage. Space behind the rear folding seats can hold items that need pressurization or which are needed in flight.
Diamond D-Jet Performance
The D-JET is powered by one Williams FJ33-5A turbofan engine, featuring FADEC which offers improved operation, reliability, efficiency, and maintenance. The engine is capable of as much as 1,900 pounds of thrust, providing a maximum airspeed of 315 knots or 362 mph, and a maximum range of 1350 nautical miles, or 1553 statute miles. The aircraft also has straight wings with angular winglets, and a durable, low-drag composite construction.
The cockpit of the Diamond D-Jet features an ergonomic design and a three-panel Garmin G1000 glass cockpit, with dual 12\" Primary Flight Displays and a central 15\" Multifunction Display, for better readability than other VLJs. There is also a center console mounted FMS controller and Garmin\'s GFC700 automatic flight control system. The system features dual aDHaRS, dual magnetometers, dual GPS, dual WaaS enabled NaV/CoM/ GPS, Mode S transponder, TaWS-B, and dual audio panels for ultimate convenience and safety.