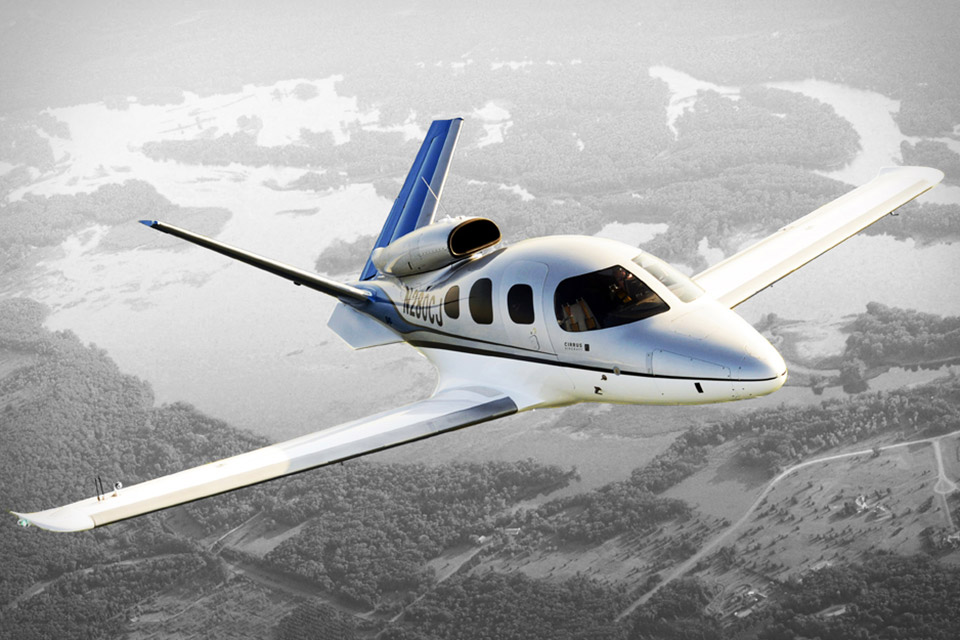 Cirrus Vision Overview
The Cirrus Vision, also known as the Vision SJ50, is a single-engine, low-wing, very light jet aircraft developed by Cirrus Design. It is intended to be comparable to the Diamond Aircraft Industries D-Jet, and has comfortable seating for four to five passengers.
Cirrus Vision Interior
With its expansive interior, the Vision's cabin maximizes space, offering boarding for up to five adults. Featured aboard the aircraft are the Vapor Cycle air conditioning, reclining seats, an optional lavatory, work/tray tables, a satellite phone, and much more. Passengers will also find easy entry for boarding and loading, large windows, and flexible seating configurations.
Cirrus Vision Performance
Powering the Cirrus Vision is a single Williams International FJ33-4A-19 fanjet, rated with 1900 lbs. of thrust. The resulting performance specifications include a high-speed cruise of 300 knots, or 345 mph, and a maximum range of 1000 nautical miles, or about 1150 statute miles. The aircraft is meant to cruise below airline flight levels, with a maximum operating altitude of 25,000 ft. Cirrus declares that the Vision will be "lighter, quieter, and more efficient" than other comparable aircraft.
Other features of the include a V-tail, the Cirrus Airframe Parachute System (CAPS™), a composite body, and several weight-saving modifications which allow the Vision to carry more fuel. The Vision's cockpit comes with state-of-the-art, advanced avionics, known as the Cirrus Perspective™ by Garmin. Pilots will have a Dual WAAS GPS, Active Traffic System, XM Radio (audio and datalink weather), Dual AHRS and Dual ADC, Mode S transponder, ADL and SD card data recording, Audio and Phone inputs, and more, to ensure the safety and comfort of the passengers and crew.