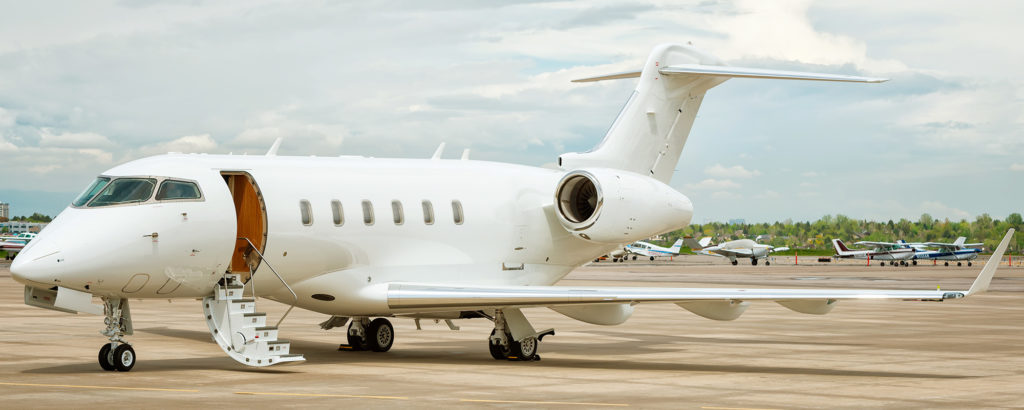 Challenger 300 Overview
The Bombardier Challenger 300, originally known as the Bombardier Continental, has coast-to-coast range and exceptional performance. It comfortably seats eight or nine passengers in its spacious cabin with vast multimedia options and in-flight accessible baggage area.
Challenger 300 Interior
The Challenger 300's typical cabin configuration offers eight fully adjustable seats in double club layout with folding tables between each seat grouping. Other options may be arranged by replacing two individual seats with a two-place or three-place divan. Alternatively, a high density configuration can seat up to 16.
The cabin has a flat floor and stand-up room, along with a two-zone environment system, LED lighting, and individual AC power plugs for each seat. A galley is available for in-flight meal preparation. Some aircraft may have a forward luggage closet, and the air-conditioned, pressurized baggage compartment can hold 106 cubic feet or 750 pounds of luggage and is accessible through the lavatory.
Challenger 300 Performance
Two Honeywell AS907 turbofan engines power the Challenger 300, and it employs a large area wing with winglets, allowing it to operate from airfields shorter than 5000 feet and fly at speeds up to 541 mph. The cockpit was designed to be ergonomic and is equipped with the Rockwell Collins Pro Line 21 avionics suite with an integrated electronic flight instrumentation system (EFIS).
Click here to view other aircraft available for charter.