Very Light Jets for Sale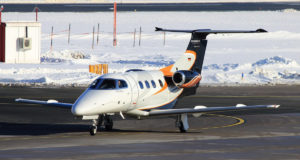 Very Light Jets (also known as Compact Light Jets) are a highly innovative and efficient class of business aircraft. Small and capable of single-pilot operations, these private jets are ideal for transportation of 2-3 passengers, with the ability to carry up to 5.
The VLJ class is meant to get travelers over short distances quickly, ideal for family day trips or business meetings.  The cost for operating is incredibly low, as is the upfront cost. The demand of Very Light Jets for sale is growing at an exponential rate, as they are so versatile.
Cost to Own a Very Light Jet
Generally, the price to acquire an aircraft in the Very Light Jet class is $1.5-$3.5 million. The cost of a Very Light Jet is determined by a multitude of aspects including the age and amenities included.
Newer aircraft such as the Honda Jet will sell for a higher price as they have innovative technology not previously witnessed in the class. Conversely, certain private jets for sale, such as the Phenom 100, will cost a buyer slightly less as it has been available on the market longer.
Hourly operation for the Light Jet class ranges from $1,700 to $2,200. The majority of this range falls well below competitors, one of its most attractive features.
Popular Very Light Jets for Sale
Very Light Jets are an increasingly popular class of private jets for sale, as more of the customer base enjoys the opportunity to fly themselves to and from meetings or vacations. Popular used and new Very Light Jets for sale include the Honda Jet, Phenom 100, and Citation Mustang.
Once known solely as a car manufacturer, Honda successfully broke through the clouds and entered into the aviation market with the Honda Jet. Each and every aspect to this private jet is unique when compared to others in this class, allowing buyers to feel like VIPs.
The Phenom 100 boasts a sleek design with an interior capable of fitting 4 passengers comfortably, with a fifth seat located in the lavatory.
The Citation Mustang was born from a family of historically reliable and luxurious aircraft. Customers who buy this Very Light Jet will be rest assured they have purchased a safe and efficient private jet.
Very Light Jet Mission Profile
Very Light Jets are quick, reliable, and perfect for a short day trip. Groups ranging from 3-5 passengers will enjoy the ability to stretch out in plenty of cabin space, with enough room left over for their carry-ons.
The range of this class is between 1,325nm and 1,610nm. This means that this class has aircraft which are capable of transporting a traveler from New York City to Dallas, TX or even Los Angeles to St. Louis, MO. A Very Light Jet can make round trips to cities such as Chicago and DC from New York with plenty of fuel left over in the tank.
Many corporate clients research used Very Light Jets for sale as an efficient option for small executive teams. Typically equipped with folding tables, power outlets, and WiFi, these aircraft function as flying office spaces for C-level flyers.
Those looking into jets for sale which have amenities such as cabin galleys and attendants won't find that here. Because of the small interior, there is only room for the passengers and their personal belongings. If a buyer is hoping to kick back and relax with an attendant to cater to their every needs, it's best to look towards a larger private jet for sale such as a Super Midsize or Heavy Jet.
New and Used Very Light Jet Sales — Why evoJets?
With years of experience in business aviation, our aircraft ownership team can consult on any type of transaction, for all private aircraft classes.
Whether you're buying a pre-owned very light jet, selling your plane, or simply researching the possibility of owning a very light jet, our aircraft sales experts will guide you through the entire process.
Contact us today to discuss very light jet ownership — our team is standing by.