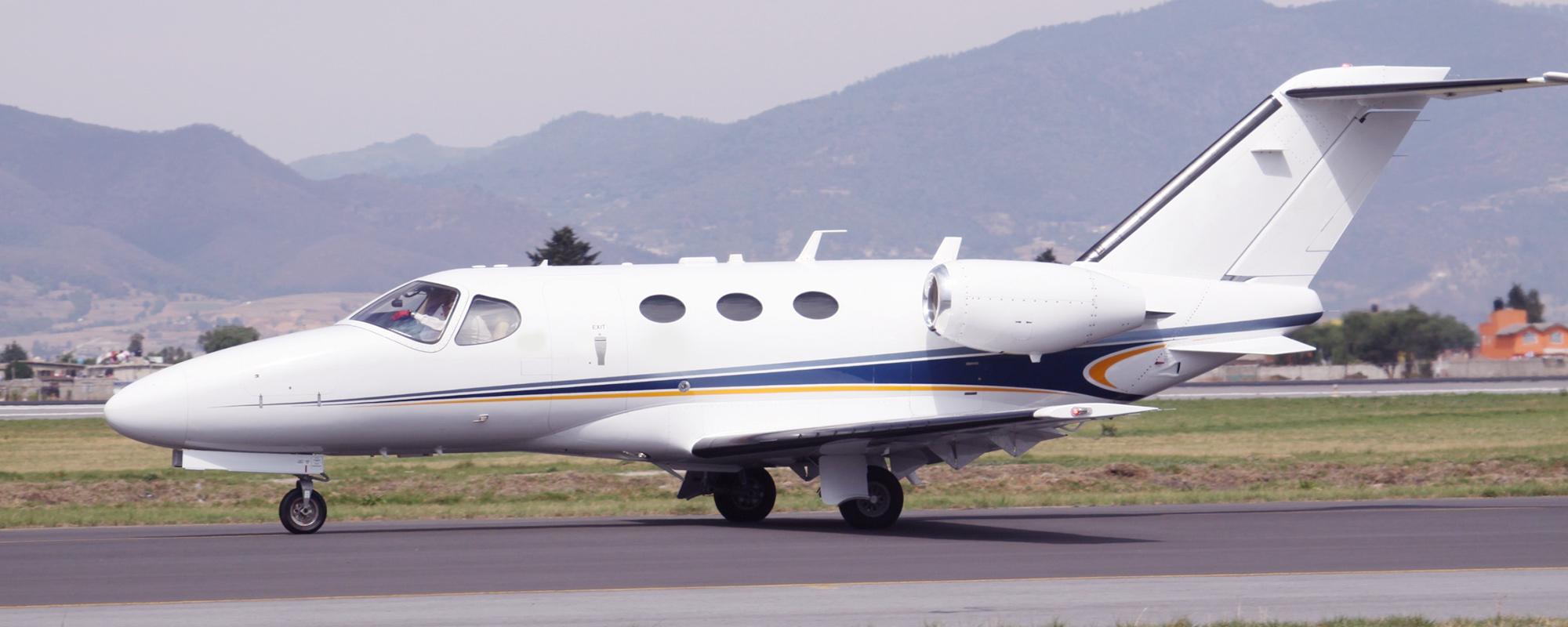 Citation Mustang Ownership Overview
Buyers who want the ability to fly their own private jet should look towards a Citation Mustang for sale. As this jet is a light jet, numerous owners have historically chosen to operate it themselves. Production began in 2006 and lasted 11 years, with nearly 480 of the type built.
Citation Mustang Cabin Experience
The Citation Mustang is capable of transporting a maximum of 4 passengers along with 1 crew member. The fuselage is just over 40ft long, with a slightly larger wingspan. When carrying the typical passenger load, the Citation Mustang brings a high level of comfort to each individual.
Total cabin space is just over 160 cubic feet allowing for a height and width of nearly 5ft both ways. Each passenger is typically given 30 cubic feet of space. The entry door is just about 4ft tall, and baggage is given over 60 cubic feet of space, with room inside the aircraft for one or two bags as the majority of the space is located in an external compartment.
Citation Mustang Mission Profile
Customers who buy a Citation Mustang are typically those focused on transporting two or three passengers over short distances. Its success in the charter market is in part due to its high efficiency as well as its provided passenger comfort, which attracts many. Buyers also often find solace in the low price tag and operating fees. This aircraft is made so that buyers can operate it frequently and it not cost them an arm and a leg.
A large portion of those who own aircraft which aren't in the charter sector find it easy to operate the Citation Mustang themselves to and from their destinations, along with a few friends, family members, or business associates, as this aircraft caters to all of the above.
Buy or Sell a Citation Mustang with evoJets
Are you interested in Citation Mustang ownership? evoJets can help. Don't waste hours on public listing engines with outdated photos, vague information, and placeholders for prices.
Our experienced reps can wade through the fragmented Very Light Jet Sales market and help you buy, sell, trade, or lease your Citation Mustang with efficiency. With over a decade of experience in business aviation charter and ownership, we have the off-market aircraft sales connections and industry knowledge to put you on a path to success.
Call evoJets today and speak to an aviation expert: (877) 970-5387.
Citation Mustang Cost to Own
Acquisition cost for the Citation Mustang typically ranges from $2.9-$3.1 million, falling on the higher end of the range set by competition such as the Eclipse 500 and Phenom 100 of typically $850,000-$2.8 million. When factoring in market depreciation to total annual cost, a buyer will spend just over $1 million a year on the Citation Mustang, more than the Eclipse 500 which costs buyers roughly the same as the acquisition cost a year in fees and the Phenom 100 which falls right around the same price as the Mustang.
Citation Mustang Operating Cost
Citation Mustang direct operating cost is around $1,000-$1,100 per flight hour, which includes fuel burn as well as various maintenance, crew, and operating fees. The Eclipse 500 operates around the same price per hour and the Phenom 100 has a slightly higher hourly rate. Annual fixed cost for the Citation Mustang, Phenom 100, and Eclipse 500 are all relatively the same, coming in at $200,000-$205,000 per year.
Citation Mustang Performance Overview
The Citation Mustang is an ideal private jet for those wanting a low-key experience, a small group of business executives, or even those looking to take the reigns themselves. This entry-level business jet continues Citations legacy of top quality and performance, and those looking for an aircraft for sale will be highly impressed by what this light jet has to offer.
Citation Mustang Engines
The Citation Mustang is equipped with two Pratt & Whitney Canada PW615F engines with nearly 1,500lbs of thrust. The Citation Mustang has a max cruise speed of 340kts, slower than the competition by 30-50kts.
The aircraft can land and takeoff in the following field lengths:
FAR-91: 2,210ft
FAR-135: 2,762ft
FAR-121: 3,683ft
Citation Mustang Payload
Max payload for the Citation Mustang is 1,200lbs and can operate at that capacity nearly 600 miles. This jet is situated firmly in between the competition which ranges from 1,000lbs-1,400lbs for roughly 350nm-750nm.
Citation Mustang Range
At long-range cruise, the Citation Mustang has a range of 800nm when carrying the typical passenger load, between that of the Eclipse 500 and Phenom 100 once again which range from more than 570nm to 1,040nm, respectively.
Citation Mustang Specifications
Citation Mustang General Info
Aircraft Class
Very Light Jet
Aircraft Manufacturer
Cessna
Aircraft Year of Manufacture
2006 - 2017
Citation Mustang Financial Data
Acquisition Cost
$2,700,000 - $3,300,000
Variable Cost
$953 - $1,165/hr
Annual Cost
$719,744 - $879,688
Fixed Cost
$20,153 - $181,375
Market Depreciation
$200,000
Retail Charter Rate
$1,700/hr
Average Charter Net
$891/hr
Citation Mustang Performance Data
Fuel Burn
90 gal/hr
Max Cruise
340 kts
135 Landing
2,762 ft
135 Takeoff
2,762 ft
91 Landing
2,210 ft
91 Takeoff
2,210 ft
121 Landing
3,683 ft
121 Takeoff
3,683 ft
Max Payload
1,200 lbs
Basic Operating Weight
5,550 lbs
Max Takeoff Weight
8,600 lbs
Citation Mustang Cabin Details
Cabin Dimensions
9'9" x 4'7" x 4'6"
Cabin Volume
201
Seat Count
4-5