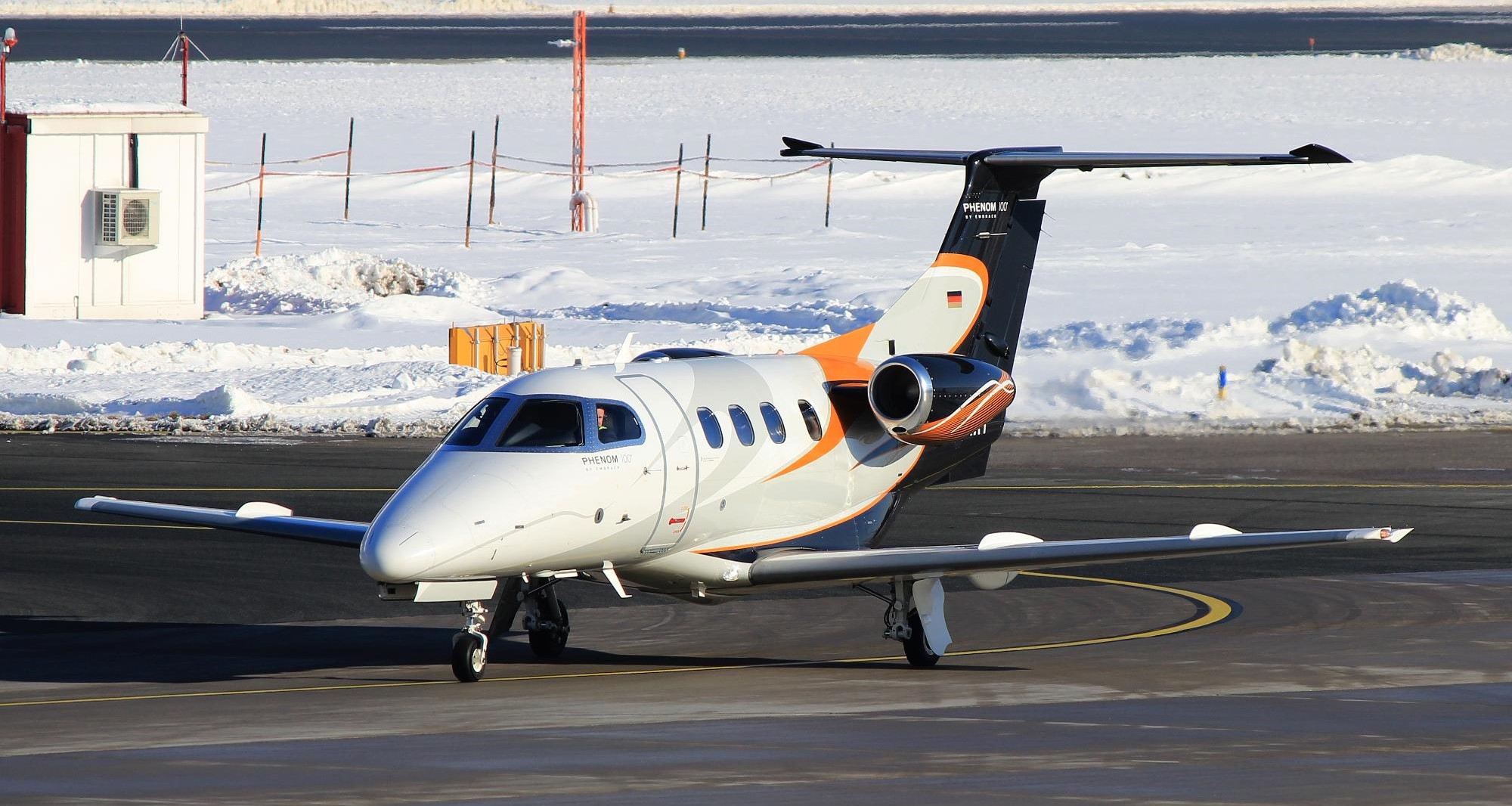 Phenom 100 Ownership Overview
Aircraft buyers today are not surprised when they come across a Phenom 100 for sale. The aircraft is a popular Very Light Jet utilized in all markets. The luxurious aircraft hasn't stopped production since it was released in 2005.
Phenom 100 Cabin Experience
The Phenom 100 is a roomy VLJ which provides seating for 4 passengers and 2 crew, with single-pilot certification. The aircraft provides travelers with a lavatory at the aft-end of the over 10ft long cabin within the 40ft long fuselage. The wingspan is just over 40ft and inside the cabin, travelers are given a height and width of nearly 5ft.
Total cabin space is over 210 cubic feet, with nearly 130 cubic feet of that dedicated to the passenger seating area. Typically, each passenger is given 25 cubic feet of wiggle room, while baggage is given 70 cubic feet of space in compartments located both inside the cabin and through an exterior door.
Phenom 100 Mission Profile
Customers who buy a Phenom 100 are the business type focused on potentially shorter trips and airport destinations which are more noise-sensitive. The cabin has noise-reducing features, a large cabin for its occupants, a solid lavatory door, and is overall simplistic in its operation. The configuration of the cabin aids in it appearing larger than it actually is, so the well designed features help passengers fell at ease throughout the duration of the trip.
Additionally, there are minute accent features such as lighting, single piece side walls and headliners, and cup holders which retract that all bring the appeal of a large corporate jet to the inside of this smaller, light jet.
Buy or Sell a Phenom 100 with evoJets
Are you interested in Phenom 100 ownership? evoJets can help. Don't waste hours on public listing engines with outdated photos, vague information, and placeholders for prices.
Our experienced reps can wade through the fragmented Very Light Jet Sales market and help you buy, sell, trade, or lease your Phenom 100 with efficiency. With over a decade of experience in business aviation charter and ownership, we have the off-market aircraft sales connections and industry knowledge to put you on a path to success.
Call evoJets today and speak to an aviation expert: (877) 970-5387.
Phenom 100 Cost to Own
Acquisition cost for the Phenom 100 typically ranges from $2.6 million to $2.8 million, half that of rival Honda Jet and about $2 million less than the Citation M2. When factoring in market depreciation to the total annual cost, the aircraft will cost a buyer around $1.0 million per year, slightly less than the Honda Jet and M2 as they fall between $1.05-$1.4 million.
Phenom 100 Operating Cost
Phenom 100 direct operating cost is around $1,100 per flight hour, more than the Honda Jet and around $200 less than the M2, which includes fuel burn as well as various maintenance, crew, and operating fees.
Annual fixed costs for the Phenom 100 is roughly $200,000 to $210,000, half of the fixed cost for the Citation M2 and slightly more than the Honda Jet with a variance of only a few thousand dollars.
Phenom 100 Performance Overview
The Phenom 100 is world renowned for a reason- its style, luxurious ride, and amenities, paired with its fuel efficiency and single pilot capability make it appealing to many looking into private jets for sale.
Phenom 100 Engines
The Phenom 100 is equipped with two Pratt & Whitney Canada PW617F-E powerplants with a thrust capability of nearly 1,700lbs. The Phenom 100 has a max cruise speed of 390kts, comparable to that of the M2, but around 30kts slower than the Honda Jet.
The aircraft can land and takeoff in the following field lengths:
FAR-91: 2,448nm
FAR-135: 3,060nm
FAR-121: 4,068nm
Phenom 100 Payload
Max payload for the Phenom 100 is just over 1,310lbs and can reach a range of nearly 750nm. Its payload capability weighs in around $100-$200 less than its competition.
Phenom 100 Range
At long-range cruise, the Phenom 100 has a range of 1,045nm with a typical passenger load.
Phenom 100 Specifications
Phenom 100 General Info
Aircraft Class
Very Light Jet
Aircraft Manufacturer
Embraer
Aircraft Year of Manufacture
2007 - Present
Phenom 100 Financial Data
Acquisition Cost
$2,430,000 - $2,970,000
Variable Cost
$1,019 - $1,245/hr
Annual Cost
$734,713 - $897,983
Fixed Cost
$20,174 - $181,564
Market Depreciation
$180,000
Retail Charter Rate
$1,700/hr
Average Charter Net
$818/hr
Phenom 100 Performance Data
Fuel Burn
110 gal/hr
Max Cruise
390 kts
135 Landing
3,060 ft
135 Takeoff
3,060 ft
91 Landing
2,448 ft
91 Takeoff
2,448 ft
121 Landing
4,068 ft
121 Takeoff
4,068 ft
Max Payload
1,312 lbs
Basic Operating Weight
7,132 lbs
Max Takeoff Weight
10,500 lbs
Phenom 100 Cabin Details
Cabin Dimensions
12'8" x 5'1" x 4'11"
Cabin Volume
317
Seat Count
4-5