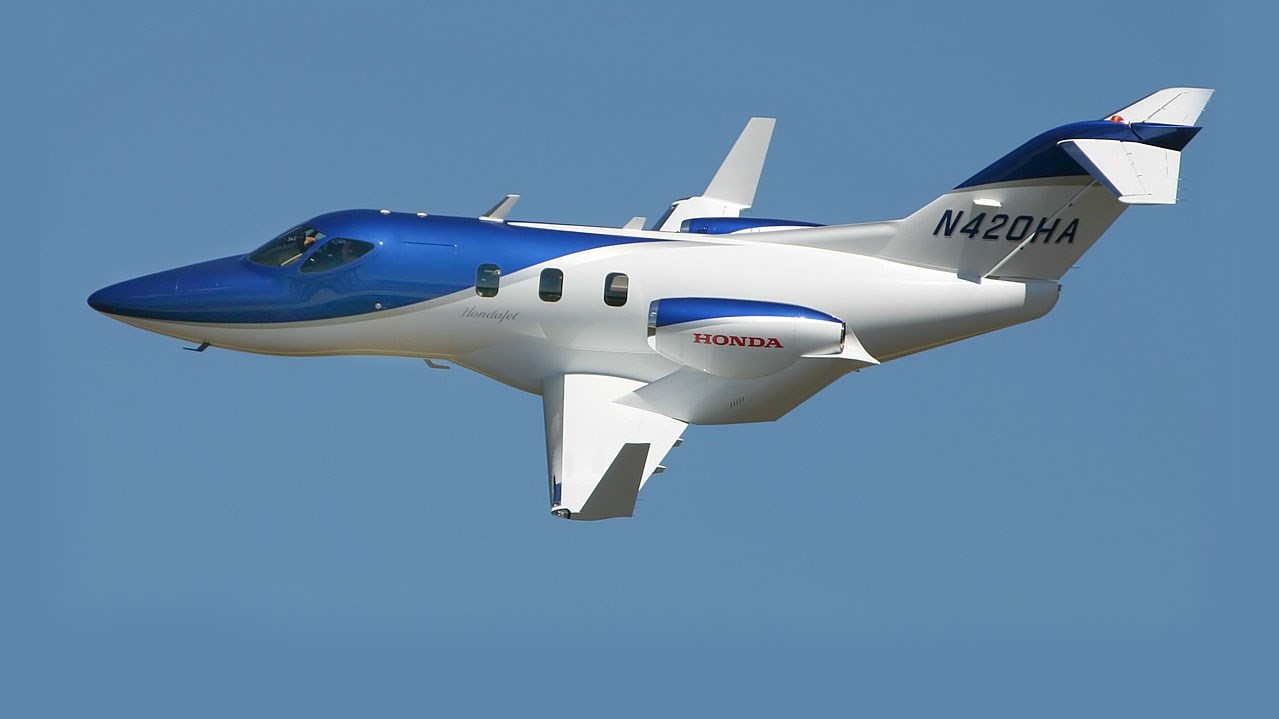 Honda Jet Ownership Overview
Customers who find a Honda Jet for sale will quickly realize that they have come across a truly innovative and unique Very Light Jet. With roughly 100 produced since 2015, what was once known solely as a car manufacturer, Honda is now making waves in the aviation industry.
Honda Jet Cabin Experience
The Honda Jet is capable of transporting 5 passengers and 1 crew member. It sits in the VLJ market, making it capable of operation by a single pilot. The aircraft has a cabin which is more than 10ft long and a fuselage that's more than 40ft long.
The cabin is 5ft wide and slightly shorter in height. The design of the interior encourages passengers traveling on business to make it an office in the sky. The entry door is 5ft wide and just under 5ft in height. Baggage receives more than 65 cubic feet of space in an external compartment.
Honda Jet Mission Profile
Customers who buy a Honda Jet are those focused on shorter trips with smaller groups, generally executives of a small company or individuals looking to fly themselves to and from meetings. The location of the engines has been pushed back further than most very light jets which provides an increase in fuel efficiency as well as an increase in cabin space.
Buy or Sell a Honda Jet with evoJets
Are you interested in Honda Jet ownership? evoJets can help. Don't waste hours on public listing engines with outdated photos, vague information, and placeholders for prices.
Our experienced reps can wade through the fragmented Very Light Jet Sales market and help you buy, sell, trade, or lease your Honda Jet with efficiency. With over a decade of experience in business aviation charter and ownership, we have the off-market aircraft sales connections and industry knowledge to put you on a path to success.
Call evoJets today and speak to an aviation expert: (877) 970-5387.
Honda Jet Cost to Own
Acquisition cost for the Honda Jet typically ranges from $5-$6 million, twice the price of a competitor such as the Phenom 100. When factoring in market depreciation to total annual cost, the Honda Jet will cost a buyer around $1.1 million, roughly $90,000 more than the Phenom 100.
Honda Jet Operating Cost
Honda Jet direct operating cost is $1,080 per flight hour, slightly less than the Phenom 100 which operates an hourly rate of $1,130. These rates included items such as fuel burn and various maintenance, crew, and operating fees.
Annual fixed cost for the Honda Jet is slightly less than $200,000, roughly the same price as the Phenom 100 as it's annual fixed costs rests around $202,000.
Honda Jet Performance Overview
The Honda Jet is a unique opportunity for those looking into aircraft for sale. It provides a design unlike other very light jets, increased range, and overall works towards the general person traveling on business. The level of luxury and innovation provided justifies the higher purchase point.
Honda Jet Engines
The Honda Jet is equipped with two GE Honda HF120 engines with 1,880lbs of thrust. The Honda Jet has a max cruise speed of more than 420kts, 30kts faster than the Phenom 100.
The Honda Jet has a takeoff distance of 3,934ft and a landing distance of 3,047ft.
Honda Jet Payload
Max payload for the Honda Jet is just over 1,520lbs. The max takeoff weight sits around 10,600lbs, including the basic operating weight of around 7,280lbs. The Phenom 100 has a max payload of 1,310lbs and it can transport that a distance of more than 750nm.
Honda Jet Range
The Honda Jet has a range of around 1,200nm with a typical passenger load. The Phenom 100 has a max range of 1,045nm under similar parameters.
Honda Jet Specifications
Honda Jet General Info
Aircraft Class
Very Light Jet
Aircraft Manufacturer
Honda Motor Company
Aircraft Year of Manufacture
2015 - Present
Honda Jet Financial Data
Acquisition Cost
$4,860,000 - $5,940,000
Variable Cost
$968 - $1,184/hr
Annual Cost
$650,454 - $795,000
Fixed Cost
$19,959 - $179,629
Market Depreciation
$370,000
Retail Charter Rate
$1,900/hr
Average Charter Net
$1,124/hr
Honda Jet Performance Data
Fuel Burn
120 gal/hr
Max Cruise
420 kts
135 Landing
3,665 ft
135 Takeoff
4,745 ft
91 Landing
3,045 ft
91 Takeoff
3,954 ft
121 Landing
5,075 ft
121 Takeoff
5,075 ft
Max Payload
1,521 lbs
Basic Operating Weight
7,279 lbs
Max Takeoff Weight
10,600 lbs
Honda Jet Cabin Details
Cabin Dimensions
17'8" x 5' x 4'9"
Cabin Volume
420
Seat Count
4-5