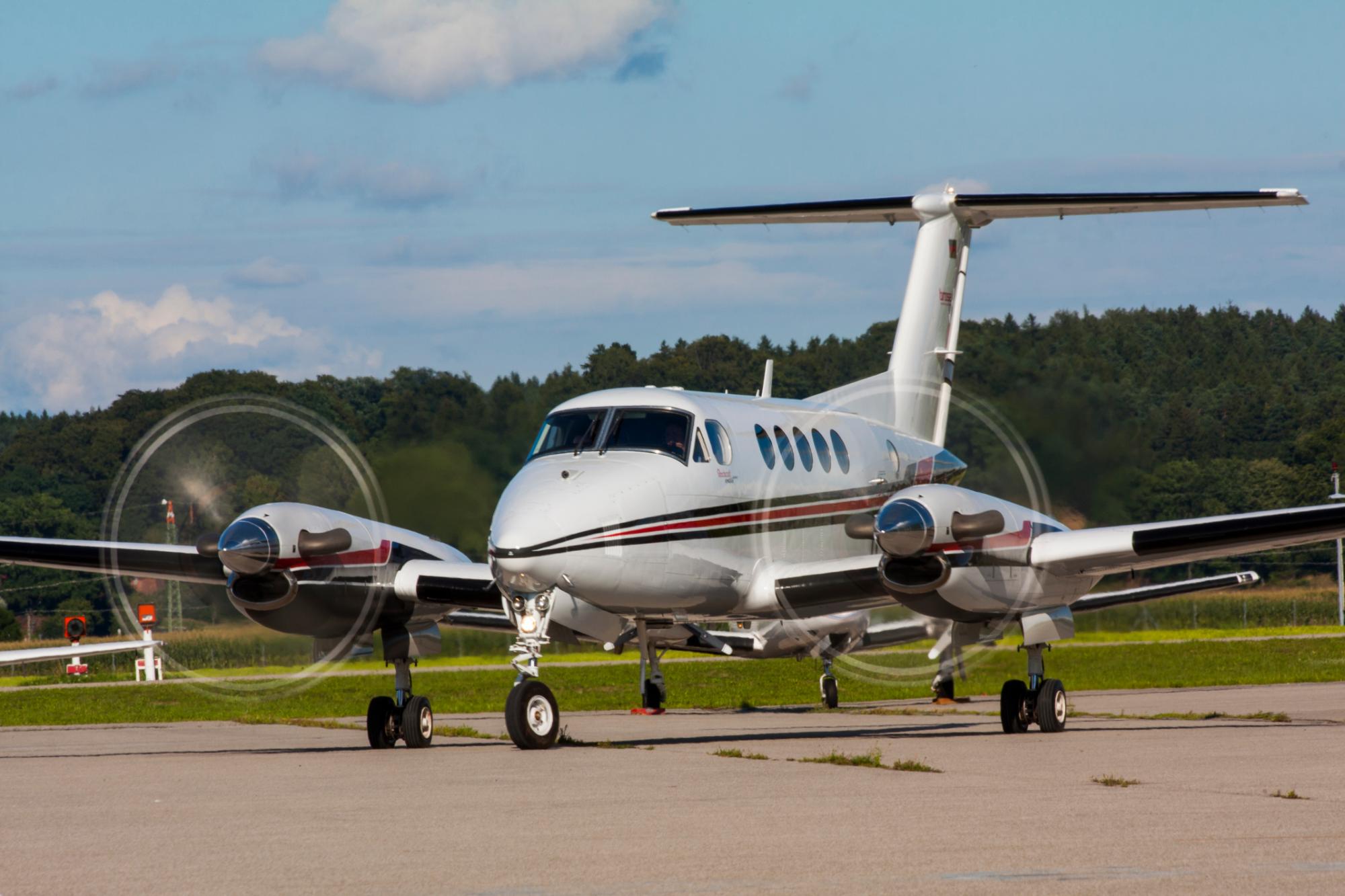 King Air 200 Ownership Overview
Buyers typically don't have a difficult time finding a King Air 200 for sale in the general aviation marketplace. The King Air 200 line has been a signature series for Beechcraft since the 1970's, with over 1,800 produced.
King Air 200 Cabin
The King Air 200 is capable of transporting a maximum of 6 passengers and 2 crew members. The aircraft includes a lavatory at the end of its 16.7 foot long cabin, and with the rounded edges of the fuselage, the cabin allows for increased shoulder space, providing passengers with more comfort in flight.
Total cabin space is 303 cubic feet, allowing for a width of 4.5ft and a height of 4.8ft. Typically each passenger is given 55 cubic feet in total, which turns into 27.2 cubic feet at full capacity. The entry door into the aircraft is 2.25ft wide and 4.3ft tall. Baggage on the King Air 200 is given 54 cubic feet of space.
King Air 200 Mission Profile
Customers who buy a King Air 200 are often focused on shorter trips, as well as noise-sensitive and smaller airports. The aircraft itself is easy to maneuver, and while it flies at a slower speeds compared to jet-engine aircraft, it's more fuel conscious. The King Air 200 is a very stable aircraft, in part due to the T-shaped horizontal stabilizer which allows for more passenger comfort.
The King Air 200 boasts a noise-reduced cabin, while offering customers a solid combination of speed, space, and spending compared to other aircraft in its class. This IFR certified aircraft can fly into icy conditions and is easily able to work with air traffic control's high demands as it can break quickly and fly at low speeds alongside single engine aircraft.
Buy or Sell a King Air 200 with evoJets
Are you interested in King Air 200 ownership? evoJets can help. Don't waste hours on public listing engines with outdated photos, vague information, and placeholders for prices.
Our experienced reps can wade through the fragmented Turboprop Sales market and help you buy, sell, trade, or lease your King Air 200 with efficiency. With over a decade of experience in business aviation charter and ownership, we have the off-market aircraft sales connections and industry knowledge to put you on a path to success.
Call evoJets today and speak to an aviation expert: (877) 970-5387.
King Air 200 Cost to Own
Acquisition cost for the King Air 200 typically ranges from $725,000 – $800,000, which is on the low end versus competitors like the King Air B200 and Pilatus PC-12. When factoring in market depreciation, it generally has the highest annual cost of the three aircraft.
King Air 200 Operating Cost
The average King Air 200 direct operating cost is around $1,500 per flight hour, which includes fuel burn as well as various maintenance, crew, and operating fees. The highly efficient Pilatus PC-12 typically operates at around $850/hr, while the newer King Air B200 flies at roughly $1,200/hr.
Annual fixed cost for the King Air 200 falls in the middle of the range set by competitors at roughly $360,000 – $380,000.
King Air 200 Performance Overview
The King Air 200 is a bestseller for a reason – the aircraft is reliable, durable, and meets the needs of a variety of missions. Flyers considering aircraft for sale take comfort in the aircraft's twin-engine construction and sturdy airframe.
King Air 200 Engines
The King Air 200 is equipped with two PT6A-41 engines with propeller reversers and the ability to feather.  The King Air 200 has a max cruise speed of 270kts, which is quite good for an older aircraft, and higher than the newer PC-12.
The aircraft can land and take off in the following field lengths:
• FAR-91: 2,600ft
• FAR-135: 3,250ft
• FAR-121: 4,333ft
King Air 200 Payload
Max payload for the King Air 200 is 1,850lbs, which is less than the PC-12 and King Air B200 can carry at takeoff. At max payload, the King Air 200 can carry 2,100lbs of fuel and fly close to 700nm.
King Air 200 Range
At long-range cruise, the King Air 200 has a range of 1,200nm with a typical passenger load. The PC-12 can achieve 1,600nm and the B-200 comes in slightly lower at around 1,100nm.
King Air 200 Specifications
King Air 200 General Info
Aircraft Class
Turboprop
Aircraft Manufacturer
Hawker Beechcraft
Aircraft Year of Manufacture
1974 - Present
King Air 200 Financial Data
Acquisition Cost
$675,000 - $825,000
Variable Cost
$1,389 - $1,697/hr
Annual Cost
$955,994 - $1,168,438
Fixed Cost
$37,268 - $335,408
Market Depreciation
$34,000
Retail Charter Rate
$1,200/hr
Average Charter Net
$-93/hr
King Air 200 Performance Data
Fuel Burn
110 gal/hr
Max Cruise
290 kts
135 Landing
3,250 ft
135 Takeoff
3,250 ft
91 Landing
2,600 ft
91 Takeoff
2,600 ft
121 Landing
4,333 ft
121 Takeoff
4,333 ft
Max Payload
1,850 lbs
Basic Operating Weight
8,550 lbs
Max Takeoff Weight
12,500 lbs
King Air 200 Cabin Details
Cabin Dimensions
16'8" x 4'6" x 4'9"
Cabin Volume
356
Seat Count
6-8