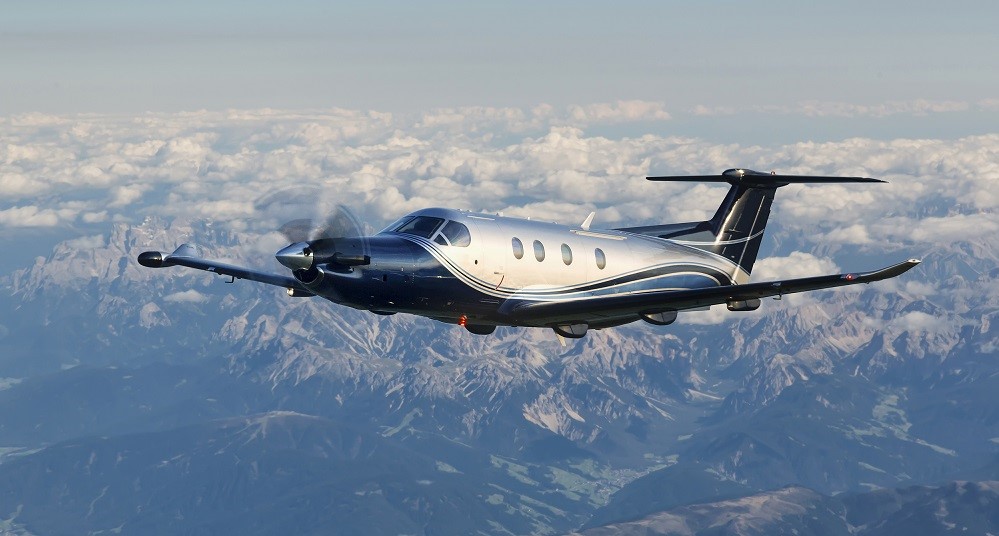 Pilatus PC-12 Ownership Overview
The Pilatus PC-12 is quickly becoming one of the most popular single-engine business aircraft on the market. Those looking for spacious, but most importantly economical rides will turn to a Pilatus PC-12 for sale.
Pilatus PC-12 Cabin Experience
The Pilatus PC-12 is capable of carrying 8 passengers and two crew members. The length of the cabin is just under 20ft long with the entire fuselage measuring at nearly 50ft, the longest in its class. Inside the cabin, travelers are given a height and width of nearly 5ft. The aircraft operates smoothly, providing customers inside the roomy interior a serene ride.
Total cabin space is just over 355 cubic feet, with each customer receiving just under 30 cubic feet of space. Although that's less than competitors such as the King Air 200 and B200, the quality of the flight for the price surpasses the size. Inside the cabin, there's nearly 35 cubic feet of space dedicated to passenger baggage.
Pilatus PC-12 Mission Profile
Customers who buy a Pilatus PC-12 are those focused on efficiency and performance. The Pilatus PC-12 performs well in adverse conditions and burns very little fuel. Additionally, this aircraft is incredibly versatile as it's able to carry cargo, passengers, a combination of the two, as well as operate for medical emergencies and commuters. The rear cargo door adds to the ease of on- and off-loading.
The aircraft operates smoothly and is especially useful for passengers whose destinations are out of the way airports as it has the ability to land on all types of runways, including those which are much shorter than the usual seen at large hub airports. That being said, the PC-12 has the ability to operate comfortably at the larger airports, too. The aircraft fits the needs of its travelers.
Buy or Sell a Pilatus PC-12 with evoJets
Are you interested in Pilatus PC-12 ownership? evoJets can help. Don't waste hours on public listing engines with outdated photos, vague information, and placeholders for prices.
Our experienced reps can wade through the fragmented Turboprop Sales market and help you buy, sell, trade, or lease your Pilatus PC-12 with efficiency. With over a decade of experience in business aviation charter and ownership, we have the off-market aircraft sales connections and industry knowledge to put you on a path to success.
Call evoJets today and speak to an aviation expert: (877) 970-5387.
Pilatus PC-12 Cost to Own
Acquisition cost for the Pilatus PC-12 typically ranges from $2.0 million to $2.2 million, which is the most expensive when compared to the King Air 200, but below the $2.9-$3.1 million King Air 350. However, the deficit is made up in all other financial outlets. When factoring in market depreciation to total annual cost, the PC-12 falls well below competition at roughly $760,000, nearly $300,000-$500,000 less than others.
Pilatus PC-12 Operating Cost
Pilatus PC-12 direct operating cost is around $800 per flight our, vastly cheaper than competitors such as the King Air 200 and 350 which operate at roughly $1,500 and $1,300, respectively. Annual fixed cost for the PC-12 also falls well below competitors as it ranges from $200,000 to $210,000.
Pilatus PC-12 Performance Overview
The Pilatus PC-12 is a bestseller for a reason- it performs well in nearly all environments at all types of airports, providing buyers with plenty of space and comfort in flight, while remaining versatile and economical. Buyers looking into private aircraft for sale are shifting their focus to this aircraft at an exponential rate.
Pilatus PC-12 Engine
The Pilatus PC-12 is equipped with a Pratt & Whitney Canada PT6A-67B engine with prop reverser and feathering ability. The Pilatus PC-12 has a max cruise speed of just over 260kts, less than the King Air 200 and 350. However, the slightly slower aircraft makes up for it in how much buyers pay out of pocket.
The aircraft can land and takeoff in the following field lengths:
FAR-91: 1,670ft
FAR-135: 2,087ft
FAR-121: 2,783ft
Pilatus PC-12 Payload
Max payload for the Pilatus PC-12 is 2,475lbs and can reach more than 800nm, both points surpass the King Air 200, and fall short of the King Air 350 which carries more than 2,600lbs for more than 1,060nm.
Pilatus PC-12 Range
At long-range cruise, the Pilatus PC-12 has a range of over 1,600nm with a typical passenger load. The King Air 200 reaches only 1,200nm, while the 350 reaches a slightly closer distance of around 1,540nm.
Pilatus PC-12 Specifications
Pilatus PC-12 General Info
Aircraft Class
Turboprop
Aircraft Manufacturer
Pilatus Aircraft
Aircraft Year of Manufacture
1994 - Present
Pilatus PC-12 Financial Data
Acquisition Cost
$1,890,000 - $2,310,000
Variable Cost
$750 - $916/hr
Annual Cost
$536,531 - $655,760
Fixed Cost
$20,798 - $187,178
Market Depreciation
$170,000
Retail Charter Rate
$1,200/hr
Average Charter Net
$517/hr
Pilatus PC-12 Performance Data
Fuel Burn
80 gal/hr
Max Cruise
260 kts
135 Landing
2,087 ft
135 Takeoff
2,087 ft
91 Landing
1,670 ft
91 Takeoff
1,670 ft
121 Landing
2,783 ft
121 Takeoff
2,783 ft
Max Payload
2,475 lbs
Basic Operating Weight
6,565 lbs
Max Takeoff Weight
10,500 lbs
Pilatus PC-12 Cabin Details
Cabin Dimensions
16'11" x 5' x 5'
Cabin Volume
423
Seat Count
7-8