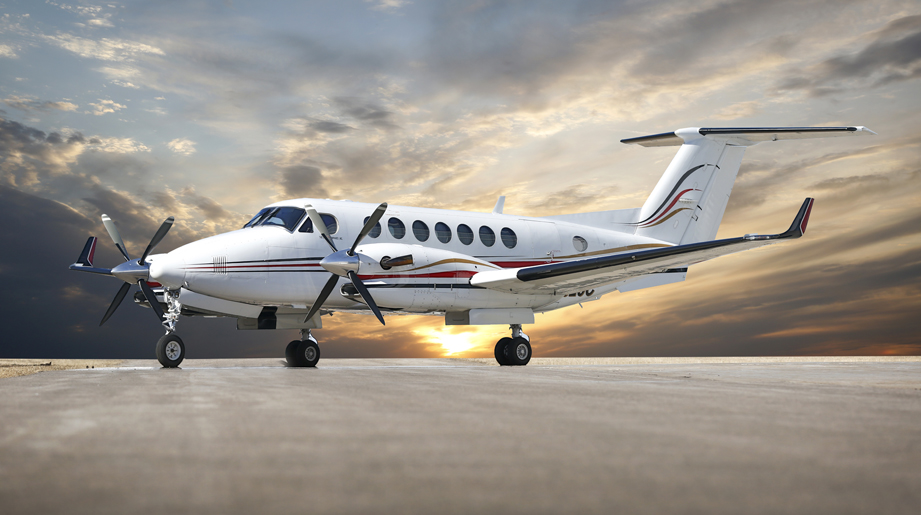 King Air 350 Ownership Overview
Introduced in 1991, the King Air 350 has made a name for itself as reliable and operationally efficient. Buyers who find a King Air 350 for sale will realize this aircraft is one that will give them a quality return on their investment.
King Air 350 Cabin Experience
The King Air 350 is capable of transporting 8 passengers and 2 crew members. The aircraft has a cabin that is just under 20ft long, inside a fuselage that's more than 45ft long. The wingspan reaches roughly 55ft wide.
Total cabin space is around 345 cubic feet, with each person allotted more than 30 cubic feet, typically. The entry door is slightly higher than 4ft and baggage receives 70 cubic feet of space, mostly in an internal compartment accessible during flight.
King Air 350 Mission Profile
Customers who buy a King Air 350 are looking to transport a small group of people across shorter distances between cities. This aircraft comes from a family which has evolved and improved over decades, making it an incredibly reliable business turboprop. It's high level of safety systems has made it one of the few jets which have been involved in next to no incidents since it was first constructed.
The King Air 350 promotes comfort to passengers, as Beechcraft has been improving the cabin since before it was even an idea on the drawing board. Each minute detail has been put in place after much thought, resulting in one of the most quality interiors of its class.
Buy or Sell a King Air 350 with evoJets
Are you interested in King Air 350 ownership? evoJets can help. Don't waste hours on public listing engines with outdated photos, vague information, and placeholders for prices.
Our experienced reps can wade through the fragmented Turboprop Sales market and help you buy, sell, trade, or lease your King Air 350 with efficiency. With over a decade of experience in business aviation charter and ownership, we have the off-market aircraft sales connections and industry knowledge to put you on a path to success.
Call evoJets today and speak to an aviation expert: (877) 970-5387.
King Air 350 Cost to Own
Acquisition cost for the King Air 350 typically ranges from $2-$4 million, less than that of its competitors, the Pilatus PC-12NG and King Air 350i which set the range at $4.5-$7.5 million, respectively. When factoring in market depreciation to total annual cost, the King Air 350 falls in the middle of the competition at roughly $1-$1.2 million.
King Air 350 Operating Cost
King Air 350 direct operating cost is around $1,300 per flight hour. The King Air 350i operates at the same rate, while the PC-12NG is around $800 per flight hour. Annual fixed cost for the King Air 350 is the highest at around $412,000.
King Air 350 Performance Overview
The King Air 350 is a popular turboprop for individuals to purchase for numerous reasons. Its high level of safety, paired with its low economical stand point and efficiency make it a great investment for flyers looking into aircraft for sale.
King Air 350 Engines
The King Air 350 is equipped with two Pratt & Whitney Canada PT6A-60A engines with prop reversing and feathering abilities. The King Air 350 has a max cruise speed of 320kts, same as the King Air 350i and faster than the PC-12NG by 40kts.
The aircraft can land and takeoff in the following field lengths:
FAR-91: 2,484ft
FAR-135: 3,105ft
FAR-121: 4,140ft
King Air 350 Payload
Max payload for the King Air 350 is more than 2,600lbs and it can transport that capacity more than 1,060nm. The King Air 350i has a max payload of 100lbs less with roughly the same range, while the PC-12NG has a payload of around 2,260lbs and a range of 850nm.
King Air 350 Range
At long-range cruise, the King Air 350 has a range of 1,535nm with a typical passenger load. The King Air 350i can operate the same distance while the PC-12NG reaches more than 100nm further all under similar parameters.
King Air 350 Specifications
King Air 350 General Info
Aircraft Class
Turboprop
Aircraft Manufacturer
Hawker Beechcraft
Aircraft Year of Manufacture
1991 - Present
King Air 350 Financial Data
Acquisition Cost
$2,700,000 - $3,300,000
Variable Cost
$1,180 - $1,442/hr
Annual Cost
$853,333 - $1,042,963
Fixed Cost
$41,208 - $370,868
Market Depreciation
$180,000
Retail Charter Rate
$1,400/hr
Average Charter Net
$289/hr
King Air 350 Performance Data
Fuel Burn
140 gal/hr
Max Cruise
320 kts
135 Landing
3,105 ft
135 Takeoff
3,105 ft
91 Landing
2,484 ft
91 Takeoff
2,484 ft
121 Landing
4,140 ft
121 Takeoff
4,140 ft
Max Payload
2,615 lbs
Basic Operating Weight
9,885 lbs
Max Takeoff Weight
15,000 lbs
King Air 350 Cabin Details
Cabin Dimensions
19'6" x 4'6" x 4'9"
Cabin Volume
417
Seat Count
6-9