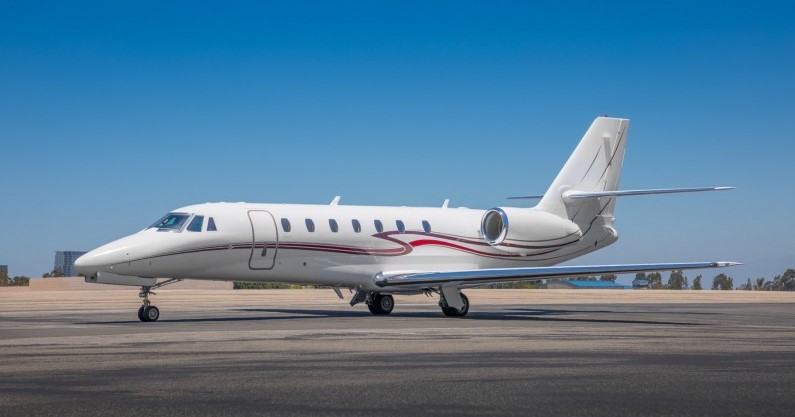 Citation Sovereign Ownership Overview
The Cessna Citation family has time and time again produced jets to successfully fit into the respective markets. Buyers looking for a super midsized jet will have ample aircraft belonging to the family to peruse, however when one sees a Citation Sovereign for sale, it's hard to look away. Production began in 2004 and hundreds have hit the market since.
Citation Sovereign Cabin Experience
The Citation Sovereign is capable of transporting 9 passengers and 2 crew members. This aircraft includes a luxurious lavatory at the end of the nearly 65ft fuselage, attached to wings stretching nearly the same distance. The cabin itself stretches more than 25ft long.
The cabin space measures at just over 570 cubic feet, with each passenger typically allocated over 40 cubic feet of personal space. The entry door is just under 5ft tall and baggage is given nearly 140 cubic feet of space broken up into internal and external compartments, with the latter taking on the bulk of the load.
Citation Sovereign Mission Profile
Customers who buy a Citation Sovereign focus on the competitive aspects of the aircraft, as each section was crafted to compete with different aircraft throughout the industry. Many corporate businesses take advantage of this aircraft, flying less than 500 miles a year. It's operational in a multitude of countries across the globe, as it performs well in different environments. The Citation Sovereign is popular among fractional ownership organizations, as well as charter companies, as the economic aspect for it remains relatively low.
The Citation Sovereign performs exceptionally well under short-field conditions, and remains true to the coast-to-coast claim. This aircraft fits well for those traveling with ample baggage as the storage compartments are competitive to that of larger jets, and it offers a large closet space for those traveling on business who need to keep their clothing wrinkle-free.
Buy or Sell a Citation Sovereign with evoJets
Are you interested in Citation Sovereign ownership? evoJets can help. Don't waste hours on public listing engines with outdated photos, vague information, and placeholders for prices.
Our experienced reps can wade through the fragmented Super Midsize Jet Sales market and help you buy, sell, trade, or lease your Citation Sovereign with efficiency. With over a decade of experience in business aviation charter and ownership, we have the off-market aircraft sales connections and industry knowledge to put you on a path to success.
Call evoJets today and speak to an aviation expert: (877) 970-5387.
Citation Sovereign Cost to Own
Acquisition cost for the Citation Sovereign typically ranges from $8.5 million to $8.7 million, in between that of competitors such as the Falcon 50EX ($5-$6 million) and the Challenger 300 ($13-$14 million). When factoring in market depreciation to total annual cost, a Citation Sovereign will cost a buyer around $2.2-$2.3 million per year, around $500,000-$700,000 less than the Falcon 50EX and Challenger 300, respectively.
Citation Sovereign Operating Cost
Citation Sovereign direct operating cost is around $2,600 per flight hour, $500 less than the Challenger and $1,000 less than the Falcon. This amount includes fuel burn as well as various maintenance, crew, and operating fees. Annual fixed cost for the Citation Sovereign lands between $555,000-$557,000, more than $330,000 less than its next closest competitor.
Citation Sovereign Performance Overview
The Citation Sovereign is a top seller for a reason- it operates at a financial price equal to that of smaller jets, while bringing in larger jet qualities and performance. This aircraft is fast while efficient on fuel, which will draw in those looking at aircraft for sale.
Citation Sovereign Engines
The Citation Sovereign is equipped with two Pratt & Whitney Canada PW306C engines with standard thrust reversers and nearly 5,800lbs of thrust. The Citation Sovereign has a max cruise speed of almost 460kts, 10-20kts less than the rival aircraft.
The aircraft can takeoff and land in the following field lengths:
FAR-91: 2,320ft
FAR-135: 2,900ft
FAR-121: 3,867ft
Citation Sovereign Payload
Max payload for the Citation Sovereign is 2,650lbs and can carry that weight for nearly 2,500nm. Both the Falcon 50EX and Challenger 300 can carry more for longer distances.
Citation Sovereign Range
At long-range cruise, the Citation Sovereign has a range of nearly 2,950nm with typical passenger load, once again both the Falcon and Challenger surpass the distance of the Sovereign.
Citation Sovereign Specifications
Citation Sovereign General Info
Aircraft Class
Super Midsize Jet
Aircraft Manufacturer
Cessna
Aircraft Year of Manufacture
2002 - Present
Citation Sovereign Financial Data
Acquisition Cost
$7,740,000 - $9,460,000
Variable Cost
$2,340 - $2,860/hr
Annual Cost
$1,489,487 - $1,820,485
Fixed Cost
$55,522 - $499,696
Market Depreciation
$580,000
Retail Charter Rate
$3,650/hr
Average Charter Net
$1,625/hr
Citation Sovereign Performance Data
Fuel Burn
280 gal/hr
Max Cruise
460 kts
135 Landing
2,900 ft
135 Takeoff
2,900 ft
91 Landing
2,320 ft
91 Takeoff
2,320 ft
121 Landing
3,867 ft
121 Takeoff
3,867 ft
Max Payload
2,650 lbs
Basic Operating Weight
18,150 lbs
Max Takeoff Weight
30,300 lbs
Citation Sovereign Cabin Details
Cabin Dimensions
25'3" x 5'6" x 5'8"
Cabin Volume
787
Seat Count
7-9