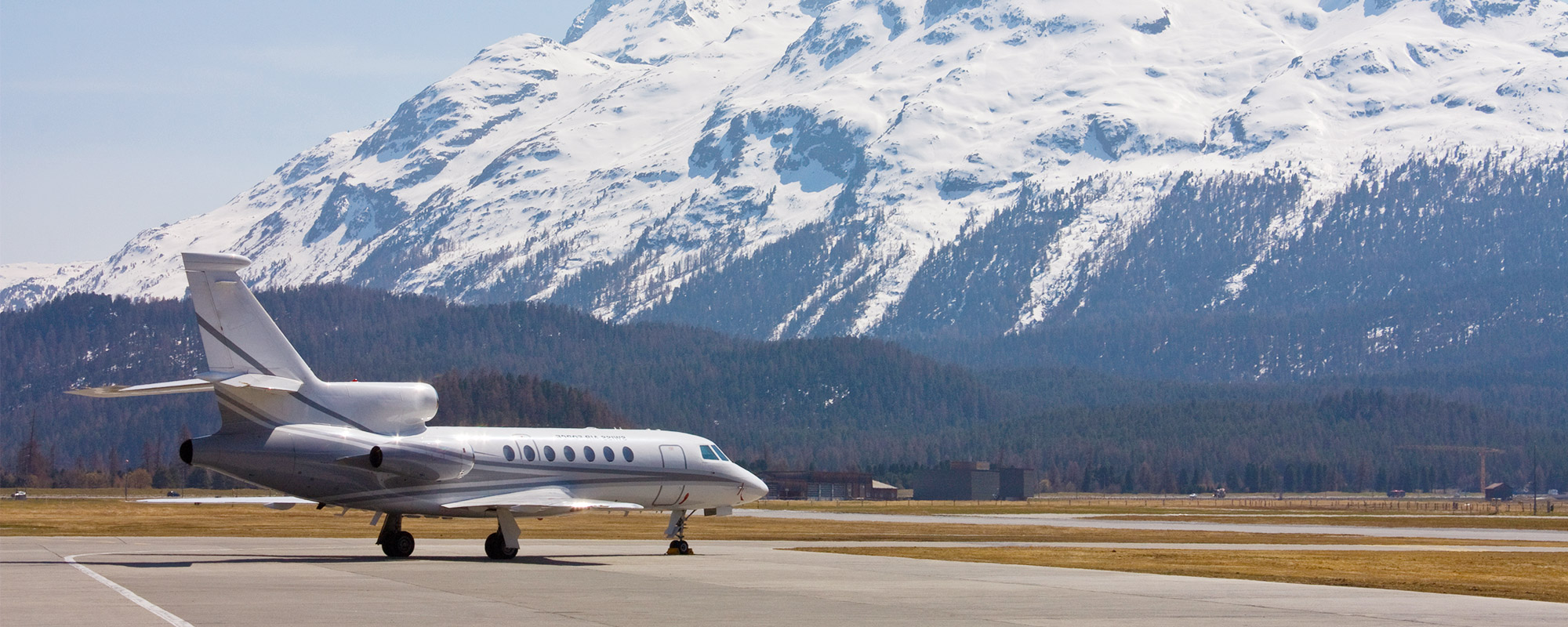 Falcon 50EX Ownership Overview
When buyers come across a Falcon 50EX for sale in the business jet market, they'll realize it's something special. Even though less than 100 of the type were built, this tri-engine super-midsize jet promises increased range and efficiency than its predecessors.
Falcon 50EX Cabin Experience
The Falcon 50EX is capable of transporting 9 passengers and 2 crew members. The aircraft includes a lavatory at the end of its nearly 25ft long cabin, set inside the 60ft long fuselage. The entry door is 5ft tall and about 3ft wide.
Total cabin space is 570 cubic feet, which allows for a height and width of roughly 6ft each way. Typically each passenger receives 40 cubic feet of space to themselves, while baggage is allocated 115 cubic feet of space, with the majority located in an external compartment.
Falcon 50EX Mission Profile
Customers who buy a Falcon 50EX are those focused on the increased range, as it's an improvement of a jet which already features an impressive range capability. This aircraft saves buyers money as it flies at higher altitudes, and therefore burns less fuel.
The lightweight materials the Falcon 50EX is constructed from also helps in lowering the noise the aircraft produces, which opens up some noise-sensitive airports for its operation. This jet is also designed towards that of the businessperson. Fold-out tables and necessary power plug-ins offer the ability for executives to complete work while they're traveling.
Buy or Sell a Falcon 50EX with evoJets
Are you interested in Falcon 50EX ownership? evoJets can help. Don't waste hours on public listing engines with outdated photos, vague information, and placeholders for prices.
Our experienced reps can wade through the fragmented Super Midsize Jet Sales market and help you buy, sell, trade, or lease your Falcon 50EX with efficiency. With over a decade of experience in business aviation charter and ownership, we have the off-market aircraft sales connections and industry knowledge to put you on a path to success.
Call evoJets today and speak to an aviation expert: (877) 970-5387.
Falcon 50EX Cost to Own
Acquisition cost for the Falcon 50EX typically ranges from $4.5-$6.5 million, more than $3 million less than that of the Citation Sovereign and nearly $8 million less than that of its other direct competitor, the Challenger 300. When factoring in market depreciation, the Falcon 50EX falls in the middle of the range set by competitors at $2.8-$2.9 million per year.
Falcon 50EX Operating Cost
Falcon 50EX direct operating cost is around $3,600-$3,700 per flight hour. This includes fuel burn and various maintenance, crew, and operating fees. This jet has the highest hourly rate as the Citation Sovereign operates around $2,600 and the Challenger 300 flies for $3,100 per hour. Annual fixed cost for the Falcon 50EX is once again the highest of its rivals at roughly $890,000.
Falcon 50EX Performance Overview
The Falcon 50EX is a unique option in the business jet market for a few reasons. It uses the innovative technology of three engines, thus increasing its range, aided by design improvements to the body as a whole. It caters to the business market as most of the aircraft in operation today fall under corporate ownership. Flyers looking into private jets for sale will be enamored with this available jet.
Falcon 50EX Engines
The Falcon 50EX is equipped with three Honeywell TFE 731-40 engines with standard thrust reversers and 3,700lbs of thrust. The Falcon 50EX has a max cruise speed of 480kts, faster than that of its direct competition.
The aircraft can land and takeoff in the following field lengths:
FAR-91: 2,100ft
FAR-135: 2,625ft
FAR-121: 3,500ft
Falcon 50EX Payload
Max payload for the Falcon 50EX is 3,320lbs, which it can transport more than 3,060nm. The jet outperforms the Citation Sovereign in both areas, while the Challenger 300 can carry a heavier payload, for roughly 600nm less.
Falcon 50EX Range
At long-range cruise, the Falcon 50EX has a range of more than 3,360nm, surpassing that of its competition by 140nm-440nm.
Falcon 50EX Specifications
Falcon 50EX General Info
Aircraft Class
Super Midsize Jet
Aircraft Manufacturer
Dassault Aviation
Aircraft Year of Manufacture
1996 - 2008
Falcon 50EX Financial Data
Acquisition Cost
$4,950,000 - $6,050,000
Variable Cost
$3,300 - $4,034/hr
Annual Cost
$2,220,383 - $2,713,801
Fixed Cost
$89,016 - $801,141
Market Depreciation
$370,000
Retail Charter Rate
$3,900/hr
Average Charter Net
$683/hr
Falcon 50EX Performance Data
Fuel Burn
320 gal/hr
Max Cruise
480 kts
135 Landing
2,625 ft
135 Takeoff
2,625 ft
91 Landing
2,100 ft
91 Takeoff
2,100 ft
121 Landing
3,500 ft
121 Takeoff
3,500 ft
Max Payload
3,320 lbs
Basic Operating Weight
39,700 lbs
Max Takeoff Weight
39,700 lbs
Falcon 50EX Cabin Details
Cabin Dimensions
23'1" x 6'1" x 5'9"
Cabin Volume
807
Seat Count
8-10