Private Jet Flights to GVA: Geneva Airport - Geneva, Switzerland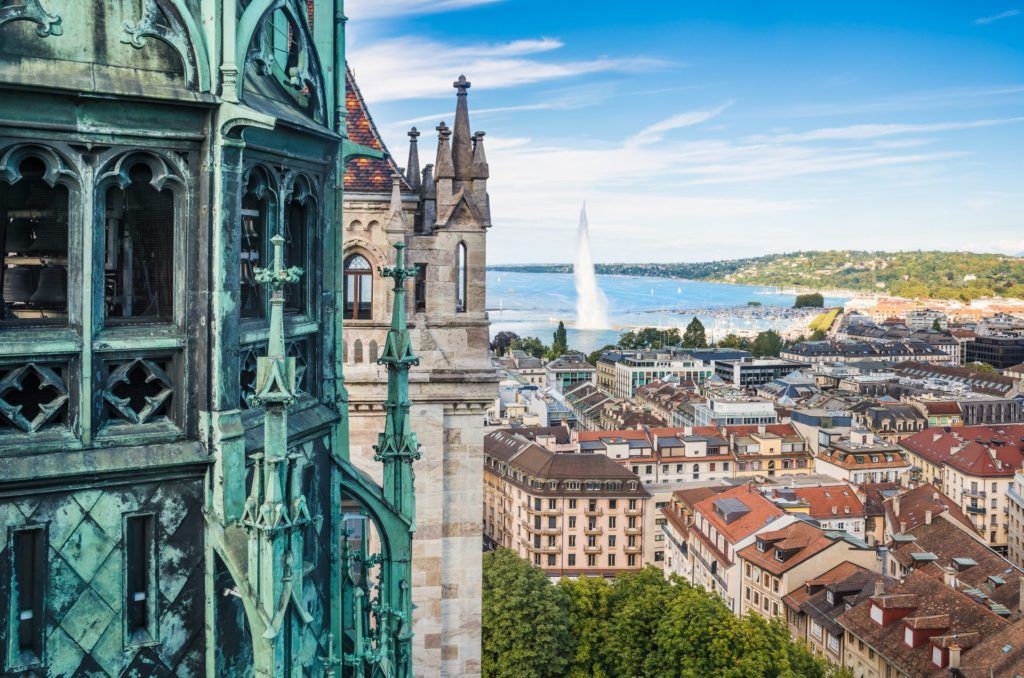 Geneva Airport Overview
Sharing borders with France, Germany, Austria, and Italy, jetting to Geneva Airport (GVA) means touching down in one of the most breathtaking cities in Switzerland. This European gem is affectionately referred to as the "land of four languages…" by travelers the world over.
There are many ways to experience the magic and majesty of Geneva that await you. Revel in awe at Lake Geneva as you take a boat ride down the largest lake in Central Europe, or admire a view of the city from atop the 12th century architecture of the stunning St. Pierre Cathedral. If taking in the sights from afar is not your style, then take a cable car to the top of a picturesque mountainside, and scale the Matterhorn itself!
A private jet to Geneva International Airport will place you at a distinct intersection between diverse European cultures, a rich Swiss history, and countless opportunities to experience the best of both worlds.
Why Book a Private Jet to Geneva Airport?
Less than two hours away from the city of Bern, and in close proximity to the Swiss countryside, Geneva Airport is the perfect facility to land in when visiting Switzerland. For lovers of the arts, world-renowned cuisine, and those who are itching to explore, Geneva is home to tons of activities.
After feasting your eyes on the colorfully painted houses in the Quartier des Grottes—along with the fondue and decadent chocolates this city boasts—visit the Patek Philippe Museum to admire five centuries of fine Swiss watchmaking.
A private charter flight to GVA will put you within range of a short the nearby city of Montreux, where you can listen to world-famous jazz, or go for a swim in one of the 7,000 lakes in Switzerland. As you stop to admire fresh blooms in the Alpine countryside, you may find that the grass is greener in Geneva!
Charter a Private Jet to Geneva Airport (GVA)
A mere 2.5 miles away from the city center, Geneva Airport is the only international airport in Geneva, and home to the single longest runway in all of Switzerland, and one of the longest in Europe.
Running along the Swiss-French border and easily accessible from both countries, Geneva Airport (GVA) serves 15 million passengers a year and handles one aircraft every 90 seconds between 6 am and midnight, on a daily basis.
When traveling by private jet charter to Geneva, our charter specialists strongly recommend Geneva Airport (GVA) for how efficiently it is run, multilingual accommodations, and the professionally staffed FBO facilities it offers.
For a formal quote or to book your private jet charter flight to GVA, contact evoJets today!
Geneva Airport FBO Details
The following FBOs are available for GVA private jet service:
Signature Flight
Jet Aviation Geneva
Geneva Airport Technical Information
| | |
| --- | --- |
| IATA Code | LSGG |
| Local Code | GVA |
| Longest Runway | 12,795 ft |
| Port of Entry | Y |
| Aircraft Supported 135 | All |
| Elevation | 1411 |
| Airport Coordinates | 46.2370097°, 6.1091564° |
| Airport Website | Geneva Airport Official Website |
| Airport Address | Route de l'Aéroport 21, 1215 Le Grand-Saconnex |
Geneva Airport Current Weather