Private Jet Flights to CUN: Cancun International Airport - Cancun, Mexico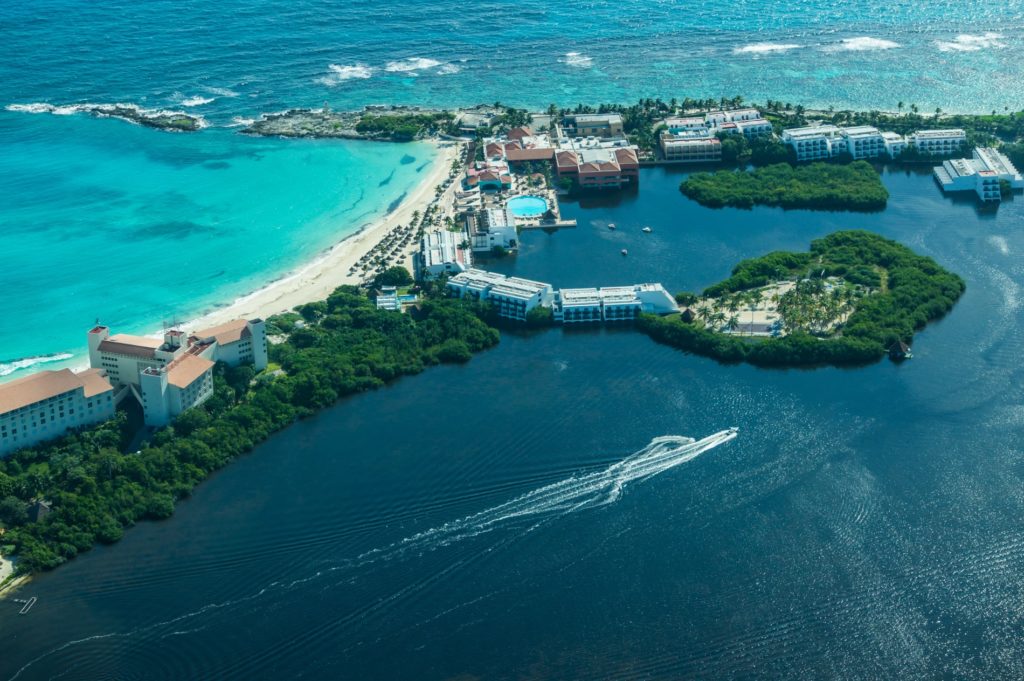 Cancun International Airport Overview
Nestled on the Yucatán peninsula, in Cancun, you've got everything you could possibly need for the tropical vacation of a lifetime. With a private jet to Cancun, Mexico, you'll be steps away from the breathtaking white-sand of Playa Norte, world-class resorts, and a booming nightlife, all in one of the finest oases in the Western Hemisphere.
Those looking for a more peaceful experience after deplaning can head to one of Mexico's most beautiful beaches, Playa Norte. With over two thousand feet of azure waters and pristine sand, you can enjoy the balmy sun, unlimited margaritas, and indulge in delicious fried red snapper fresh out the waters.
For a more exclusive take on Mexico's roaring tropics, private yachts and boats dock at Playa Norte, allowing visitors to bask in the sun on their own deck or leap into the clear waters. The coastline is dotted with high-end luxury resorts, boasting secluded beaches and breathtaking views from your private cabanas.
When you charter a private jet to Cancun, the most ideal airport to utilize is Cancun International Airport, CUN. Ranking as Mexico's second busiest facility after Mexico City International, it serves roughly twenty-six million passengers yearly. Only a few miles from the beach, you'll be off your jet and in vacation mode in no time.
Why Book a Private Jet to CUN Airport?
Experience an underwater museum and get a glimpse of the world below the sea level in a way you've never seen before. With over five hundred life-size sculptures submerged nine to twenty feet deep in the crystal blue ocean, it's considered one of the most unique diving sites in the world. Book a private jet to Cancún and dive into Cancún Underwater Museum.
Cancun is famous for all things aquatic, however, history lovers can also enjoy several world-famous archaeological sites. Ancient Mayan ruins are well-preserved throughout the city and serve as a great narration of Mexico's past. From El Meco Ruins to Chichin Itza, the country does a phenomenal job of blending past and present for a compelling historic journey.
When you book a private flight to Cancun International Airport, you'll have access to several VIP amenities, including private lounges, canapes, and an open bar. With proximity to the beaches and city center, this is an evoJet's favorite for all private travel through Cancun.
Charter a Private Jet to Cancun International Airprot (CUN)
Whether you're looking for an all-inclusive getaway on your own private beach or wanting to explore the deep blue sea, Cancun, Mexico is the destination for you.
For a formal quote, or to book your private jet to Cancun, contact evoJets today!
Cancun International Airport FBO Details
The following FBOs are available for CUN private jet service:
Cancun International Airport Technical Information
| | |
| --- | --- |
| IATA Code | MMUN |
| Local Code | CUN |
| Longest Runway | 11,483 ft |
| Port of Entry | Yes |
| Aircraft Supported 135 | All |
| Elevation | 20 |
| Airport Coordinates | 21.0417033°, -86.8740062° |
| Airport Website | Cancun International Airport Official Website |
| Airport Address | Cancun - Chetumal Km 22, 77565 Cancún, Q.R., Mexico |
Cancun International Airport Current Weather