Private Jet Flights to CEQ: Cannes-Mandelieu Airport - Cannes, France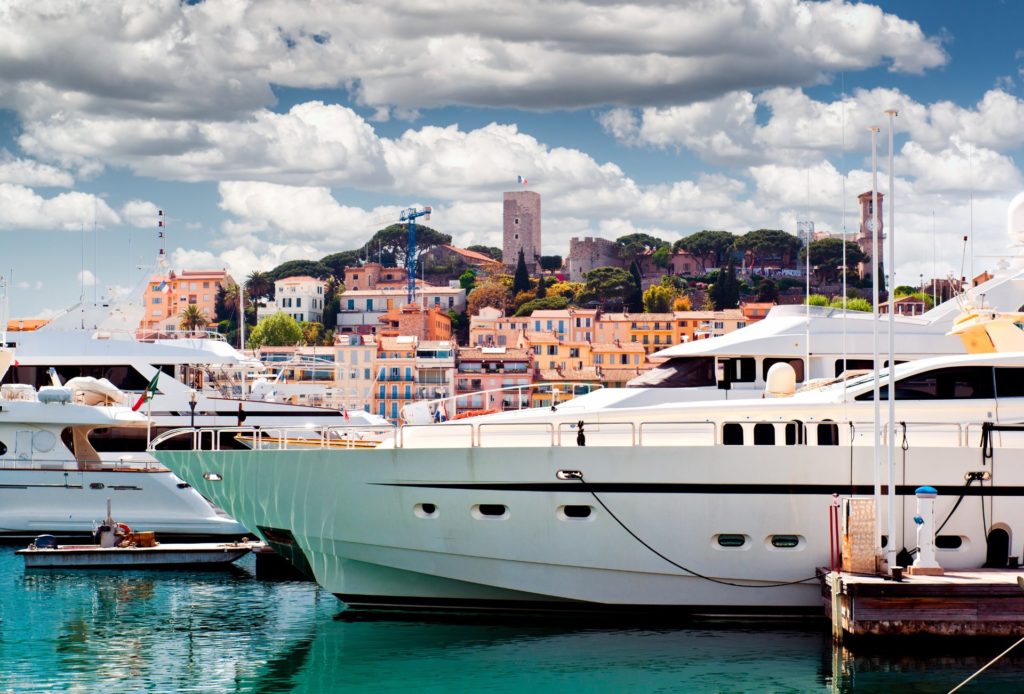 Cannes-Mandelieu Airport Overview
Internationally-acclaimed for its prestigious annual film festival, this resort town along the French Riviera is a bucket-list destination among some of the world's most famed individuals. Teeming with luxury hotels, sparkling yachts, elegant boutiques, and private white-sand shorelines, a private jet to Cannes-Mandelieu Airport will leave you enchanted.
Whether you're a film connoisseur or walking the red carpet, what better way to arrive at such a glamorous gala than by your own private aircraft? With your film, hair, and makeup team, along with a bottle of champagne, cruise the clouds of the Côte d'Azur lavishly when you book a private jet charter flight to Cannes with Evo.
From sunkissed tans to luxury yachts dotting the glittery marina, the balmy Mediterranean weather makes this destination enjoyable any time of the year. For a quote on your next private jet to Cannes-Mandelieu Airport, contact us today to speak to a charter specialist!
Why Book a Private Jet to Cannes-Mandelieu Airport?
Conveniently located a short distance from Mandelieu-la-Napoule and only three miles from the city, Cannes-Mandelieu is an ideal airport for all private charter to Cannes, France. Whether you're attending the iconic festival or in-need of a French escape from the relentless demands of daily life, the Coast of Blue is the destination for you.
Featuring several VIP services to ensure your private travel is hassle-free and luxurious, this airport provides jetsetters with a private lounge with a beautiful outdoor terrace. When you jet to Cannes-Mandelieu, private helicopters or vehicles are available to charter you to surrounding areas, such as Monaco, Saint-Tropez, and even the ski-resorts of the Maritime Alps.
A private charter to Cannes-Mandelieu Airport means landing in one of the most sought-after cities in the world. From the grand promenade, La Croisette, to the historic Fort Royal, indulge in the glitz and glam of the French Riviera, a coast that effortlessly sparkles every day of the year.
Charter a Private Flight to CEQ Airport
As one of the major gateways into the region, Cannes-Mandelieu Airport is only a twenty-minute drive from downtown, perfect for those looking to start their vacation immediately upon touchdown. In light of its small size, the facility serves almost ten-thousand passengers every year, with safety and efficiency as a travel priority.
Booking a private flight to Cannes-Mandelieu Airport means avoiding the congestion and traffic of Nice Cote d'Azur Airport. With a global network of aircraft and dedicated charter specialists, leave the hassle of flying to us when you book your next private jet to Cannes-Mandelieu with Evo. For a quote, visit our charter cost calculator or contact us today!
Cannes-Mandelieu Airport FBO Details
The following FBOs are available for CEQ private jet service:
Flying Group
iXAir
My Fair Jet
Cannes-Mandelieu Airport Technical Information
| | |
| --- | --- |
| IATA Code | LFMD |
| Local Code | CEQ |
| Longest Runway | 5,282 ft |
| Port of Entry | Yes |
| Aircraft Supported 135 | All |
| Elevation | 43 |
| Airport Coordinates | 43.5471916°, 6.9542169° |
| Airport Website | Cannes-Mandelieu Airport Official Website |
| Airport Address | 245 Avenue Francis Toner, 06150 |
Cannes-Mandelieu Airport Current Weather