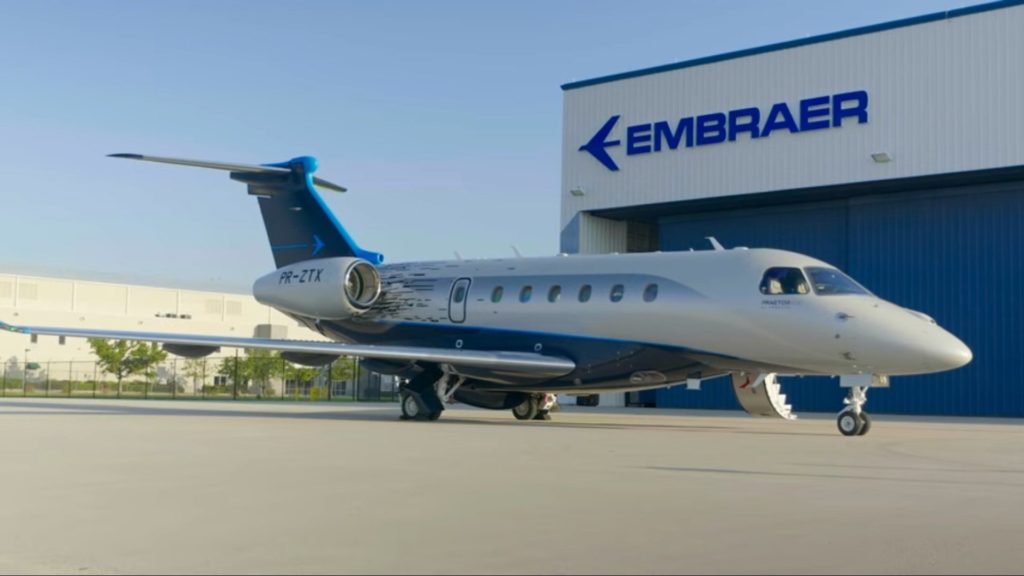 Praetor 600 Overview
Travelers looking for a highly modern and luxurious flight experience should charter a Praetor 600. As one of the youngest private jets in the market, the Embraer Praetor 600 is an evolution of the Embraer Legacy 500. This private jet improves on one of the most reliable, well-known, and advanced corporate jets in the industry.
The Super-Midsize private jet charter market hasn't seen anything quite like the Embraer Praetor 600. With some of the most advanced technology in the cockpit and cabin, customers who charter a Praetor 600 will arrive to their destinations feeling as fresh as the moment they stepped foot on the aircraft. Just like its family member, the Embraer Praetor 500, the interior of the 600 variant pays homage to the beautiful beaches of its homeland, Brazil.
Praetor 600 Interior
Operation of an Embraer Praetor 600 requires only two crew members. The Praetor 600 interior is designed to hold 8-12 passengers. If necessary, the aircraft has a lavatory seat with full passenger travel capabilities.
The height of the Embraer Praetor 600 interior is 6ft tall, nearly 7ft wide, and more than 26ft long. In short, this cabin is huge, unmatched by many competitors. Passengers will not feel cramped within this space, even at maximum capacity.
The baggage compartment for the Praetor 600 holds 5 cubic feet more than the 500 variant, measuring in at 155 cubic feet of space. This leaves minimal chance for passengers to run out of space for their belongings. Maximum payload for the Praetor 600 is 3,300lbs.
Designed with the executive business person in mind, the Praetor 600 interior implements new and improved noise abatement technology across all areas, right down to the quiet-flush lavatory. This aspect ensures travelers can get as much rest as they need, allowing for a fresh arrival to their final destination.
Although this advanced private jet was manufactured as an evolution from the Legacy family, those original aircraft are still available. That being said, customers will not want to charter a Legacy aircraft when they can charter a Praetor 600. While the Praetor 600 interior can speak for itself, the all around quality of this aircraft is incredible. The advanced technologies implemented throughout the design paired with the flexibility and ease of performance in different environments, the Praetor 600 offers highly sought-after features for the VIP.
Praetor 600 Performance
The Embraer Praetor 600 is equipped with two Honeywell HTF7500E engines that operate some of the newest advancements in aircraft manufacturing. The futuristic technology doesn't stop inside the aircraft, but flows throughout the engines as well. Honeywell time and time again proves advancements in efficiency and these engines are no exception, ensuring less fuel burn.
The Praetor 600's max cruise speed is about 465kts, similar to that of the 500 variant. At long-range cruise, the Praetor 600 can fly nearly 4,000nm.