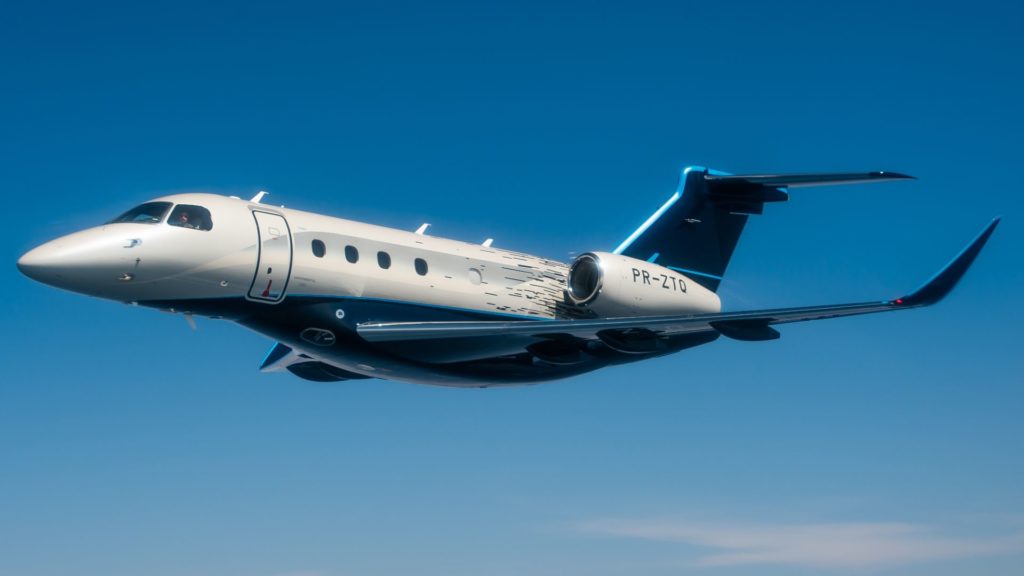 Praetor 500 Overview
Brand new to the corporate jet market, travelers with the keenest eye for luxury will hone in on an Embraer Praetor 500. Marketed as an upgrade to its predecessor, the Embraer Legacy 450, the Embraer Praetor 500 was intricately designed to pay homage to the beautiful beaches of its homeland, Brazil. In just less than a year and a half, this aircraft has made waves in the private jet charter industry, setting a new standard of high-end private aircraft.
The Embraer Praetor 500 is ideal for the executive traveler, for the businessman looking to multitask while traveling, for the VIP desiring ample space to move about the cabin during flight. This incredible feat of design draws in charter customers, appealing to their sense of high-quality comfort and amenities.
Shortly after its completion, this jet received a triple certification from the European Union Aviation Safety Agency, Agência Nacional de Aviação Civil, and the Federal Aviation Administration. This triad succeeded in launching the Praetor 500 to the top of the market.
Praetor 500 Interior
Necessitating just 2 crew members, the Embraer Praetor 500 is capable of transporting up to 9 passengers, making use of the lavatory seat during all parts of the flight. With a cabin height of nearly 7ft and a width of 6ft, this monstrous aircraft provides an immense amount of space for passengers to move comfortably throughout the entirety of its 24ft long cabin.
Passengers aren't restricted in terms of baggage, which is an attractive feature to the traveling businessman. The Embraer Praetor 500 has a designated baggage compartment of 150 cubic feet, located aft of the main cabin. Travelers can bring all the luggage they desire to ensure this private jet becomes their home in the sky. Max payload for the Praetor 500 is about 2,900lbs, but with a full tank of fuel, that drops to below 2,000lbs.
Charter a Praetor 500 to experience Embraer's innovative technology, as its interior is packed with luxury amenities. Unmatched in its class, the Embraer Praetor 500 was designed with the executive in mind. Its spacious cabin implements noise abatement technology, including a quiet-flush lavatory. There is very little that will prevent a passenger from getting in a good night's rest. It is fine-tuned to work for the passengers, ensuring they arrive to their final destination refreshed and prepared to take on their day.
Embraer crafted this private jet to move forward from their Legacy era. While that family of aircraft is still available, the primary focus is now on the Praetor family. An Embraer Praetor 500 is marketed to reflect its long range and high performance within different environments. This aircraft can take passengers nearly anywhere across the globe. New cabin technology allows passengers to fly at 45,000ft without any sort of negative effect on their performance. All of which are highly sought-after features for the traveling business executive.
Praetor 500 Performance
The Embraer Praetor 500 is equipped with dual Honeywell HTF7500E powerplants which implement some of the newest advancements in manufacturing. These engines ensure a high level of operational efficiency, including features such as less fuel burn. The Embraer Praetor 500 has a max cruise speed of more than 465kts, a highly competitive speed that leaves most of its class in the dust. At long-range cruise, the Embraer Praetor 500 can cover a distance of more than 3,300 nautical miles.