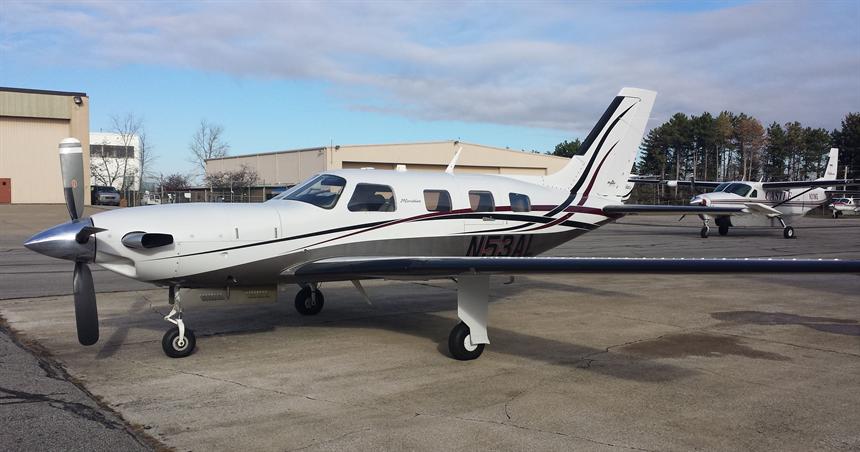 Piper Meridian Overview
The Piper Meridian began life as a high performance, turboprop-powered version of the Piper Malibu Mirage. It is a powerful but comfortable aircraft for short range flights and typically seats six to eight passengers.
Piper Meridian charters are perfect for short range flights in calm weather, like summer weekend trips out to the Vineyard from New York or Boston.
Piper Meridian Interior
Inside the cabin, the low noise and vibration levels of the Meridian's turboprop engine make for an enjoyable ride. The aircraft provides a pressurized, air-conditioned cabin environment with comfortable seating similar to that found in more expensive planes. All of the seats and side panels are leather, and the carpets are thick-woven and wear-resistant. Each seat includes a cup holder, personal light, and air vent. Passengers can also make use of a built-in work table which folds away into the side panel.
Piper Meridian Performance
Updates to the Meridian over the Mirage include the Pratt & Whitney Canada PT6A-42A turboprop 500 shp (370 kW) engine and modifications to the airframe to handle the extra weight and speed. Such changes include larger wings and tail surfaces, a stainless steel firewall, stronger landing gear, and increased fuel capacity. These features allow the Meridian a 1250 statue mile range and a 260ktas (325mph) cruise speed.
The Piper Meridian also contains some of the most advanced Garmin and Avidyne avionics available today. The aircraft is offered with a Garmin G1000 package, including the smooth GFC700 autopilot, as an optional replacement for the earlier Avidyne Entegra system.