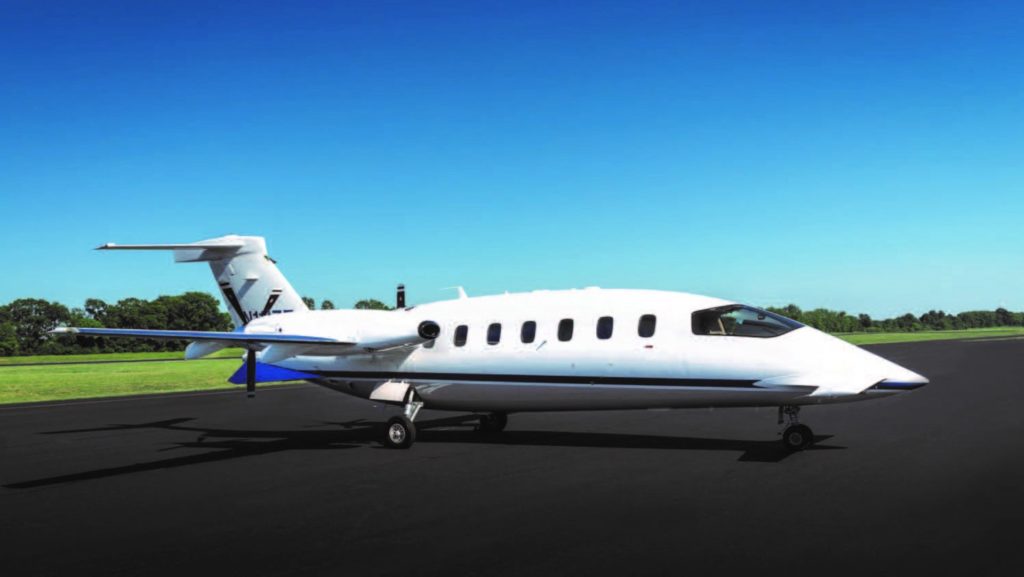 Piaggio Avanti II Overview
Easily identified by the forward wing present on its nose, and the constant curve to the fuselage, the Piaggio Avanti II offers updated avionics and engines relative to its preceding family members. Small but mighty, faster than other aircraft in its class, the Piaggio Avanti II provides travelers what larger aircraft can, at a lower out of pocket cost. This unique turboprop is even faster than some midsize jets for charter.
The Piaggio Avanti II transports up to 9 passengers and caters well to passengers' needs through its luxuriously comfortable cabin. This turboprop performs well in varying conditions, including the ability to operate well within a major airport.
Commonly misconceived as a canard, the forward wing on the nose of the Piaggio Avanti II is its most distinguishing feature. Piaggio Aero states although it's a lifting feature, it cannot be a canard by definition due to the fact that it remains stationary. Canards are designed to be mobile during flight operations, employing the use of elevators.
If you're looking for a high-performance, unique aircraft, charter a Piaggio Avanti II. While this turboprop may not be as frequently operated as some of the competing options, it has the ability to fly circles around them, ensuring customer satisfaction along the way.
Piaggio Avanti II Interior
While the fuselage looks deceivingly small on the outside, the Piaggio Avanti II interior is a roomy 6 feet wide, nearly 6 feet tall, and 18 feet long. This interior provides passengers with the ideal amount of space to move about the cabin comfortably in-flight. There are very few competing turboprops for charter which have such a large cabin space.
The Piaggio Avanti II interior comfortably accommodates 7-9 passengers. This capacity is ideal for those traveling on business or vacation. The Piaggio Avanti II interior provides an atmosphere conducive to relaxing travel, especially for those business persons who wish to prepare for meetings or presentations before arrival.
The Piaggio Avanti II holds a decent amount of luggage for travelers on board. The external baggage capacity holds nearly 45 cubic feet of space, while the internal baggage capacity is slightly over 15 cubic feet of space.
Piaggio Avanti II Performance
The Piaggio Avanti II is powered by two rear-facing turboprop engines, but it flies similarly to a jet-engine powered aircraft. The Piaggio Avanti II is equipped with dual Pratt & Whitney Canada PT6A-66B powerplants which provide a smooth and quiet ride. The Avanti II has a maximum cruise of 400 knots, with a long range cruise of 318 knots. These cruise speeds are relatively typical for the turboprop class, ideal for those traveling shorter ranges, as opposed to overseas trips.
In addition to the Piaggio Avanti II marketed as faster than the aircraft in its class, it's also advertised as 40% more fuel efficient. This feature gets passengers to their destinations faster, with less fuel stops along the way.
The Piaggio Avanti II has a range of 1,510 nautical miles, with a ferry range of just 20 nautical miles further. This is an ideal range for cross-country flights, for those weekend business or family vacations, even for daily work trips. This range is dependent on a variety of external factors such as weather conditions and amount of weight on-board. The Piaggio Avanti II can fly coast to coast within the United States in less than 4 hours.