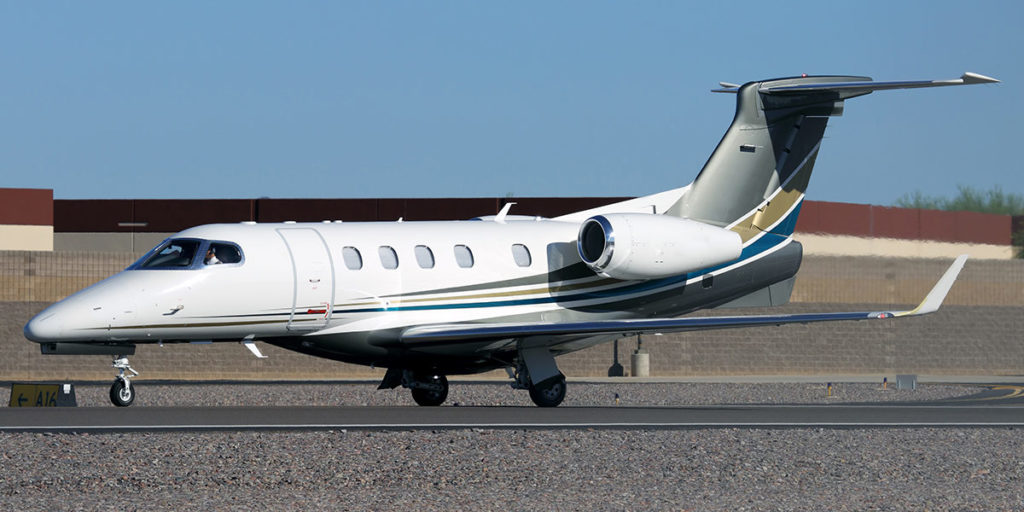 Phenom 300 Overview
The Phenom 300 is a high-performance Light Jet that is continually regarded as one of the best planes available to private charter clients. With a roomy cabin and capabilities more similar to a Midsize Jet, the Phenom 300 rarely disappoints.
Book your Phenom 300 charter with evoJets and experience all the service and luxury that private travel has to offer.
Phenom 300 Interior
The cabin of the Phenom 300 holds six seats in standard club configuration. A seventh seat or a two-place sofa may be installed beside a smaller version of the onboard refreshment center. The standard refreshment area has an ice drawer, room for water bottles or wine, and can be equipped with a microwave or a hot drink station. The refreshment cabinet can double as a wardrobe. Passengers can also take advantage of satellite communications and entertainment facilities during flight. The Phenom 300 comes equipped with an enclosed, belted lavatory, complete with two windows and a half-height storage space for toiletries.
Phenom 300 Performance
The Phenom 300 is produced by the Brazilian aircraft manufacturer Embraer. It is designed with low, swept-back wings and a T-tail. The aircraft is powered by two Pratt & Whitney PW 535-E engines, and also features trailing link landing gear for softer landings, a hot-air anti-ice system, and a brake-by-wire system with anti-skid capability for better braking. In the cockpit, the pilots operate an Embraer Prodigy flight deck with a Garmin G1000 all-glass avionics suite.