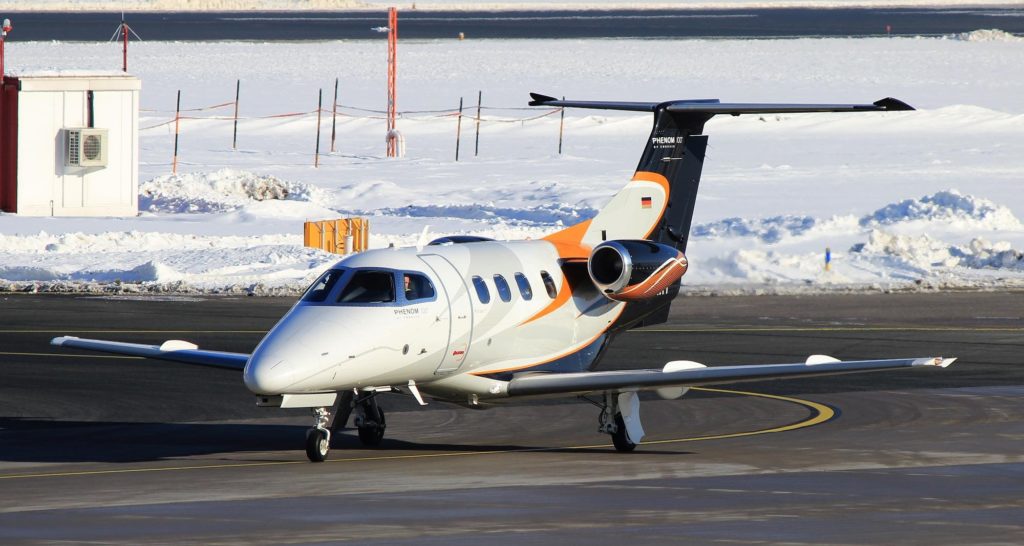 Phenom 100 Overview
The Phenom 100 is Embraer's Very Light Jet (VLJ) version of the Phenom 300. With an alluring mix of high-performance equipment at a competitive operating cost, the Phenom 100 quickly became a fixture in retail aircraft charter since its first deliveries in 2008.
Offering range nearly comparable with Light Jets in a cabin wide and tall enough to fit 4 passengers comfortably, the Phenom 100 is the choice for many flyers on short to medium ranged trips. Charter a Phenom 100 for short hops like to LA to Tahoe or New York to Boston.
Phenom 100 Interior
The Phenom 100 comfortably seats four in standard configuration, however six passengers can be accommodated with the use of a fifth optional seat and the belted lavatory.
The cabin of the Phenom 100 can be oriented in three different layouts: four-place, four-place business club or six-place forward air taxi seating. A forward wardrobe with six cubic feet of space is available for cargo, or can be replaced with a refreshment center. An additional 60 cubic feet of luggage space is available between the forward and aft storage compartments.
Each seat offers a laptop port and individual passenger-pilot comm units. Satellite communications are also available. The fully enclosed lavatory is lighted naturally by two large windows and contains toiletry storage space.
Phenom 100 Performance
The structure of the Phenom 100 includes a low straight wing with slight sweep, a T-tail, and two full authority digital engine control (FADEC) equipped Pratt &Whitney PW 617F-E engines. The aircraft's trailing link landing gear employs anti-skid and brake-by-wire systems. The Garmin G1000 avionics suite forms the basis for the Phenom 100 Prodigy flight deck.