The evoJets Operator Performance Index (OPI)
Creating a comprehensive view of the quality and reliability of Part 135 Direct Air Carriers.
What is the OPI?
The OPI is a multi-factor rating system of Part 135 air carriers (Operators) developed and maintained by evoJets.
Leveraging historical performance data from thousands of evoJets flights, the OPI creates a 360-degree view of expected Operator performance, as viewed by evoJets.
Rather than rely solely on third-party rating organizations to evaluate Operators, or on a single data point like Aircraft Model Year, the OPI creates a composite of relevant performance indicators.
The OPI rates aircraft Operators, not individual aircraft.  Although an OPI score may be provided alongside a specific aircraft, the score relates to the Operator and its fleet as a whole – not the specific aircraft.
Why was the OPI created?
The on-demand market is constantly in flux and heavily fragmented.  New aircraft are certified for charter operations all the time, and existing inventory disappears from the market just as often.
Direct air carriers range in size and operational scale, and are privately-owned companies with unique booking requirements, contract terms, and competencies.  Any number of changes within these organizations (new practices, staff turnover, fleet utilization, etc) may lead to fluctuations in service.
For these reasons, evoJets began tracking key performance data for all the Operators in our network and updating these ratings on a continuing basis.
The OPI creates a relative scale to evaluate Operators of all types and sizes, and provides a current indication of expected performance, as viewed by Evo.
OPI Scoring & Utilization
The OPI rates Operators on a scale of 0 to 100.  evoJets will not utilize Operators with a score below 80 by default.
For last-minute flights, peak travel dates, remote locations and similar circumstances, aircraft options may be limited.  In such instances Evo may present Operators with a sub-80 score.  While we prefer to use Operators with a score of 80 or higher, there are many reliable options in the 70-80 range.
The minimum OPI score required by Evo is 70 – we will not utilize an Operator with an OPI below 70 at the time of booking.
OPI Statistics
(Last updated September 1st, 2020)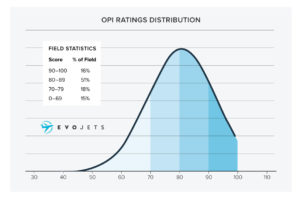 The average OPI score is 79.5.
The highest concentration of scores is in the 80-89pt bracket – 51% of all Operators rated
OPI Ranking Factors
Operational Integrity
Operational soundness is a key performance indicator for Part 135 air carriers.  Here are some of the factors we take into consideration when scoring Operational Integrity:
What are the infrastructures in place and how many points of contact exist in the organization?
How knowledgeable are the people working in Charter Sales, Flight Operations, Accounting, etc?
Do their processes inspire confidence in the organization as a whole?
The answers to the above paint a clear picture as to what type of service and delivery can be expected.
Communication
Communication is extremely important in the success of charter operations.  Minor details can lead to major mistakes in aviation, and there are many moving parts to consider.  The success of every trip relies on the dedication and diligence of many people across multiple organizations.
Here are some examples of what goes into an Operator's Communication rating:
Response time – How quickly do they respond to inquiries, especially in the hours leading up to and during a trip?
Proactive updates – Do they deliver important changes to trip details in a timely manner? (ex: crew changes, tail # changes, FBO swaps, weather updates, passenger feedback, etc)
Internal communication – Does their Sales team talk to their Ops team? Does Ops talk to crew?  Clear channels of communication are imperative.
Service Record
An Operator can maintain best-in-class service for long periods of time, but that service can dip quickly due to a variety of factors.  Aircraft experience wear and tear, operations personnel make mistakes, and any number of issues can result in a sub-par flight experience for passengers.
Here are some examples of items that would affect an Operator's Service Record:
Negative passenger feedback on crew, condition of aircraft, or in-flight experience
Pilot or Operator-induced delay, mechanical issue, or otherwise trip-altering situation
Last-minute operational surprises like aircraft swaps, payload restrictions, and catering mishaps
Average Condition of Aircraft
This category relates to the perceived condition of an Operator's entire fleet, not any individual aircraft, based on a variety of evaluation methods:
Passenger feedback of the fleet over time
Average fleet YOM and dates of refurbishment
In-person inspection, where applicable
Photos and videos provided by the Operator
Aircraft in Operator Fleet
The number of aircraft in an Operator's fleet is a strong indication of its ability to complete successful missions over time.  Small fleets can deliver consistent results, but large fleets typically have the infrastructure and backup aircraft in place to deliver over time.
ARG/US & Wyvern Ratings
ARG/US and Wyvern are third-party rating organizations for direct air carriers.  The OPI takes an Operator's rating on ARG/US and Wyvern into account, but does not reflect the standards or practices used by either organization.  The rating alone ('Gold', 'Wingman', etc) is what the OPI factors.
evoJets is not a member of ARG/US or Wyvern.  Ratings are obtained on Operators' websites, marketing materials, or from a company spokesperson.  Ratings are also published on various industry platforms and databases to which Evo is either a member of or has access to.
Aircraft Year of Manufacture (YOM)
Aircraft age is a polarizing topic in private aviation.  Companies offering brand new planes say that 'newer planes are safer, nicer, more luxurious', while those with older aircraft contend that newer planes are 'more expensive but no more safe or capable.'
Our view is that both statements can be true, and every client and routing is unique.  To some flyers, a 1992 aircraft with a brand-new interior could be just as marketable as a 2012 aircraft with heavy hours and its original interior.
That said, newer planes, in general, are lower on hours and offer more advanced pilot and passenger technology.
Years with Current Part 135 Certificate
Aircraft Operators enter and exit the on-demand market almost every day.  Owners will place a plane into Part 135 operations when it makes sense for them and can pull it off the market at any time.
The longer an Operator stays active on its current Part 135 certificate, the more committed they generally are to charter operations, and the more experience their team will have.
On-Demand Dedication
Not every Operator considers on-demand charter its primary business, and in fact many do not.  Some companies are owner-focused, spending most of their resources handling trips for the owners of the planes, rather than serving on-demand customers.
Our experience has been that companies which consider the charter market to be an 'as needed' or 'necessary evil' business channel often lack in the fulfillment of Part 135 charters.
Please Note:
The Operator Performance Index (OPI) score is based on evoJets' experience working with direct air carriers and represents the opinion of evoJets regarding the performance and capabilities of these direct air carriers. evoJets makes no representations about the safety record or certification of any direct air carrier, any pilot or any aircraft. Similarly, the OPI is not intended to, and does not, make any representations about the safety record or certification of the direct air carrier, the pilots or the aircraft. EvoJets does not audit direct air carriers, and the OPI is not based on and does not reflect any standards used by any auditing organization. Further, The OPI score is based on an assessment of the direct air carrier's overall history of performance with evoJets and is not a guarantee of future performance on any flight.