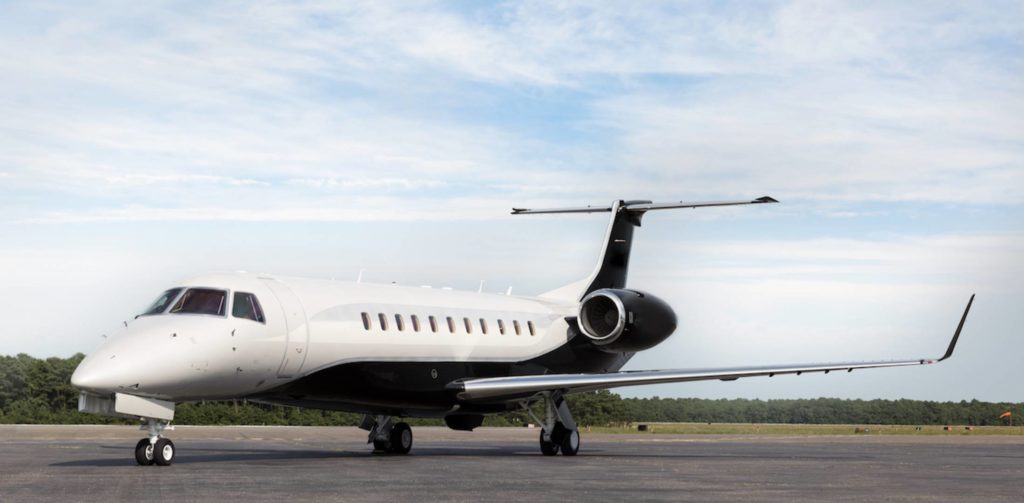 Legacy 650 Overview
An evoJets client favorite, the Embraer Legacy 650 is the latest in the Legacy 600 series. This impressive Heavy Jet boasts big power and performance to match its comfortable, high-quantity passenger seating.
The Legacy 650 is capable of flying longer distances than many of its rivals, making it a great choice for international travel, and it comes with a higher payload capacity for those that require a great deal of baggage. Charter a Legacy 650 for long-range trips with up to 16 passengers, and fly in fully-connected comfort all the way to your final destination.
Legacy 650 Interior
The Embraer Legacy 650 typically seats 13-14, but can be configured to carry up to 16 passengers. Its cabin length is substantial, at almost 50 feet, and it offers over 6ft of height and width.
But it is the remainder of the cabin that is what makes the 650 really stand apart. It starts with its non-traditional three seating sections, which is a vast improvement from the traditional 2. It also has a variety of perks and options that make it popular with passengers:
Berthing seats
Noise control
Luxurious bathrooms
Extended galley
High-speed internet
It is a highly popular jet for pleasure, but was also designed to be business ready, competing with some of the top names in private business aviation.
Legacy 650 Performance
The Legacy 650 uses two Rolls-Royce AE 3007A2 engines, leading to a total thrust of 18,040 lbf – 26% more than the average heavy jet. Yet they are also quieter, so the ride itself is pleasant and ensures it can land at some of the airports with noise restrictions. Its engine and design allows it to travel 3,900 nautical miles, which is about 500 more than similar jets in the class. It also can carry over 1,000 lbs of baggage with 286 cubic feet of space.
The Embraer Legacy 650 is an enjoyable ride with a luxury component that you can trust. Book a Legacy 650 for private jet travel at evoJets today.
Check out our types of jets here.