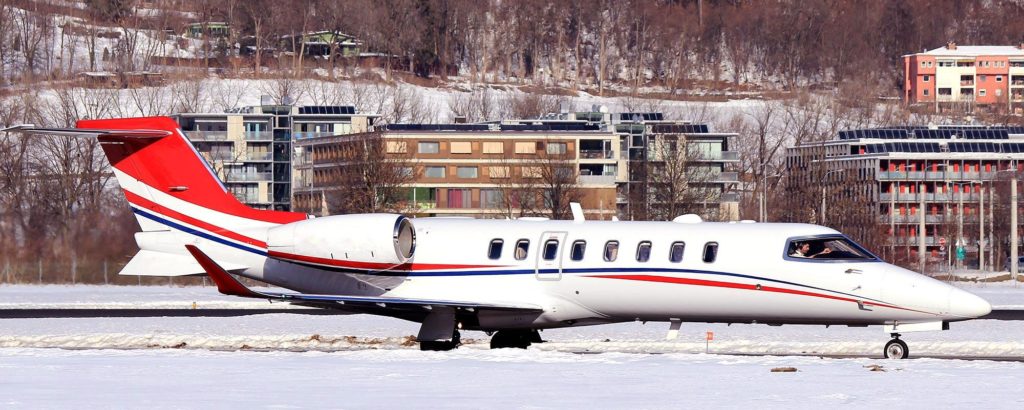 Lear 75 Overview
The Bombardier Learjet 75 – usually shortened to Lear 75 – is a Light business jet that combines some of the highest quality avionics, greater controls (for a more comfortable passenger experience), and an improved cabin environment compared to its predecessor, the Lear 45.
With better fuel efficiency, the Lear 75 also offers an affordable jet travel option for businesses, without sacrificing the quality of the experience.
Lear 75 Interior
The Lear 75 typically seats 7 to 9 passengers with pivoting chairs and double club seating. For comfort and enjoyment, the cabins feature Blu-Ray players, XM radio, Wifi Access (on select models), and 12.1 inch passenger seat monitors with on-demand video capabilities and iPod connecting docks.
There is a large galley for catering, along with a fully-equipped enclosed lavatory. The Lear 75 is also quite well known for its storage, which boasts 15.1 cubic feet of space in overhead areas and 50 cubic feet in external heated space for those that have ample bags and boxes.
Lear 75 Performance
At a max cruising speed of 465 knots, the Lear 75 is one of the faster light private jets available. It boasts a range of 2,040 nautical miles on a single tank of fuel, and can fly at an altitude 13% higher than average for the class, at as much as 45,000 feet. Its long-range cruise speed is also much higher than average, at 430 knots.
The Honeywell TFE731-40BR engines in the Learjet 75 offer an incredible 7,700 lbfs in thrust, which makes them one of the highest in the class by a substantial margin, and with a payload capacity of 2,110 lbs, the jet can also carry a 16% greater than average payload as well.
The Bombardier Lear 75 is a powerful Light Jet, and provides a comfortable ride for both business and pleasure. Book a Lear 75 for private jet charter at evoJets today!
Check out our types of jets here.