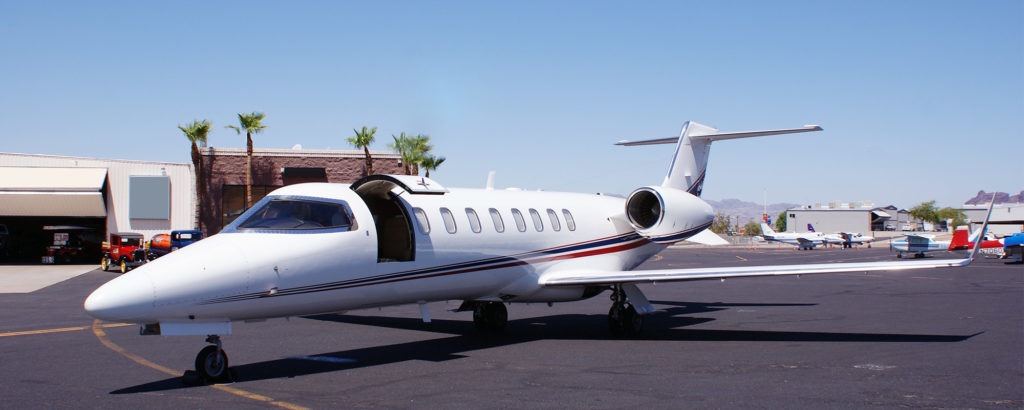 Lear 45 Overview
The Learjet 45 is a Light Jet produced by Bombardier Aerospace as a larger version of the popular Lear 35. With a much roomier cabin than the Lear 35 and Lear 40, along with improved performance and pilot technology, the Lear 45 is a favorite among private flyers.
Charter a Lear 45 for nonstop flights over 1,800 nautical miles.
Lear 45 Interior
The Lear 45 comfortably seats eight passengers and has a total of 65 cubic feet of luggage space between the interior and exterior compartments. Its eight swiveling, reclining passenger seats are configured in double-club format. The cabin is designed for passengers to feel as little claustrophobia as possible, while enjoying the standard smoothness of a Learjet flight.
Eight windows on each side of the cabin let in natural light and add to the feeling of spaciousness. Environment is controlled by a two-zone system to keep passengers and pilots comfortable. Other features include a full width lavatory, a galley, and fold-down work tables.
Lear 45 Performance
Two AlliedSignal TFE731-20AR turbofan engines power the Learjet 45. They were designed specifically for the 45, incorporating new design elements for increased fuel economy. Other design changes were made to the exterior of the Learjet 45, differentiating from previous Learjets, including smaller delta fins, one piece flaps, and an expanded fin and rudder.The Learjet 45 taxis and lands gently on trailing link landing gear. The cockpit is equipped with a Honeywell Primus 1000 integrated avionics suite.