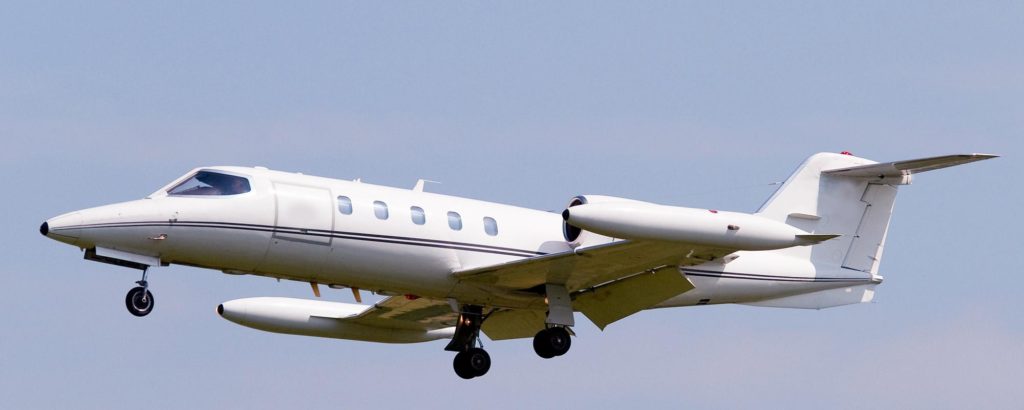 Lear 35 Overview
The Learjet 35 and 35A are improved models of the extremely popular Learjet 25, produced throughout the 1970's by Bombardier Aerospace. The Learjet 35 is well known for its range, which is reasonably long for a Light business jet, traveling well across much of the continental U.S. nonstop. The Lear family of business jets is known for its range, speed and overall performance, with the Lear 35 and 35A exemplifying these features.
Lear 35 Interior
The slightly longer cabin of the Learjet 35/A allows for standard seating of six to eight travelers in a double-club layout. The interior contains 10 total windows. Unlike many other Light Jets, there is also a robust mini-bar with hot and cold drink facilities. With 40 cubic feet of luggage room, passengers can store about eight standard-size suitcases.
The main drawback of the Lear 35/A is its small cabin. In order to maintain best-in-class speed, range and efficiency, the Lear 35/A models were designed with smaller than average cabins. For groups of 6 passengers and fewer, and especially for flyers that are not 6ft tall, the cabin is usually more than suitable when the air speed and long-range capabilities are factored in.
Lear 35 Performance
Other desirable characteristics are the aircraft's low fuel burn and high cruise speeds, which are facilitated by two Honeywell TFE731-2-2B engines. The Learjet 35/A meets FAR part 36 noise standards, reducing noise in flight and especially at airports during landing and takeoff.
The aircraft also features an all new avionics system compared to its predecessors. Adding to the safety of the Learjet 35 are the autopilot, color weather radar and tactical air navigation system, as well as three radios of different frequency ranges.