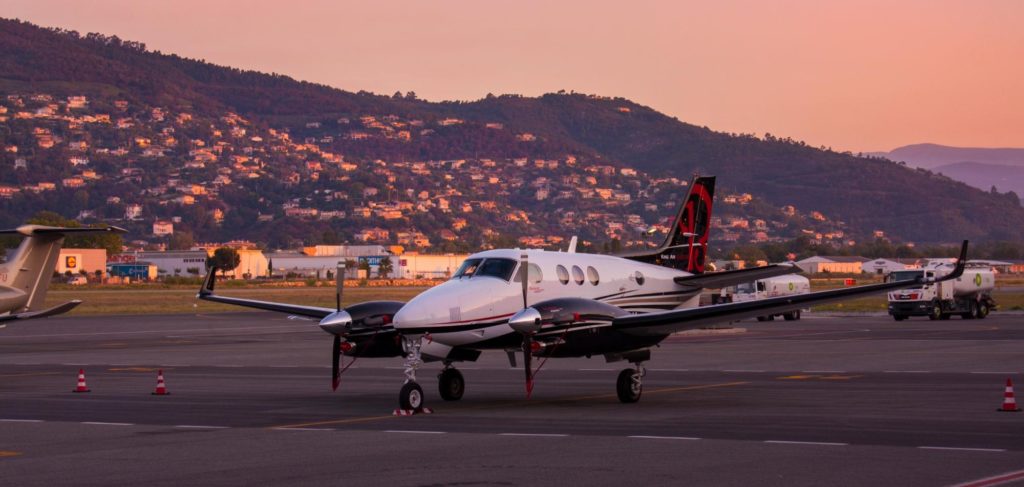 King Air 90 Overview
The Beechcraft King Air 90 was the original King Air model based on a military version of the Queen Air. The King Air 90 can carry up to seven passengers in its pressurized cabin with in-flight accessible baggage hold. Ideal for short trips with 4-6 passengers, the King Air 90 and its later models are a fantastic value option for short weekend trips with light baggage.
evoJets clients charter a King Air 90 for trips like Teterboro to Nantucket, Miami to the Bahamas and LA to Las Vegas.
King Air 90 Interior
Four passengers can sit comfortably in the King Air 90's club-seat configuration with a fifth and sixth individual seat available in the rear of the cabin. While a seventh passenger could potentially ride in the cockpit with the pilot, evoJets does not allow flights with less than two pilots for safety precautions.
The King Air 90 typically has a partial lavatory located in the rear of the plane, with a privacy curtain or screen separating it from the main cabin area.
Efforts were made to decrease cabin noise in the C90B (with PT6A-21 engines and an Electronic Flight Instrument System, or EFIS) by adding four-bladed propellers, propeller synchrophasing, and airframe improvements.
King Air 90 Performance
The earliest King Air 90 models were powered by PT6A-6 engines and then PT6A-20s. The King Air C90 offered an increased wingspan, a higher maximum take-off weight, and flew on PT6A-20As. Model E90 used PT6A-28 engines. Improvements to the pressurization system and upgraded PT6A-21 engines came with the Model C90-1. The F90 and F90-1 borrowed the T-tail of the King Air 200 and employed PT6A-135 engines. The F90-1 also introduced hydraulic landing gear. Model C90A was made with a higher maximum take-off weight part of the way through its overall production time.
The C90SE was designed to be a cheaper variant, with only three-bladed propellers and mechanical instruments rather than the EFIS. An engine change to PT6A-135As in the C90GT resulted in higher cruise speeds and climb rates.
The most recent production version of the King Air 90 is the Model C90GTi, which comes with the Rockwell Collins Proline 21 avionics system.