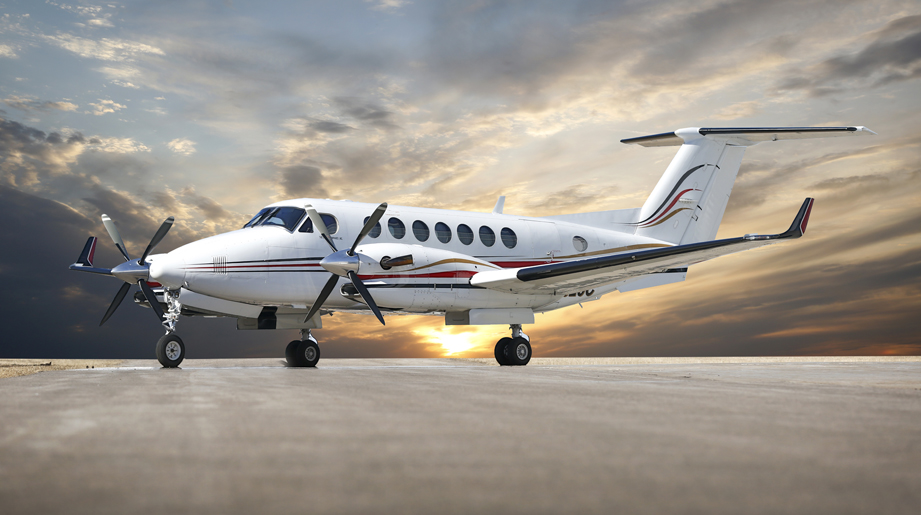 King Air 350 Overview
The King Air 350 was originally designated as the model B300, an improved variation on the King Air 300. Prior to 1996, the aircraft was known as the Super King Air 350. It typically seats eight or nine passengers comfortably in a cabin nearly three feet longer than that of its predecessor.
Charter a King Air 350 with evoJets and experience end-to-end service from a dedicated account rep, solely focused on the successful completion of your trip and the lasting experience of your passengers.
King Air 350 Interior
The King Air 350's seats are often arranged in double-club configuration with retracting worktables between each pair. Up to three more single seats may be added to the layout. The stretched cabin also includes two additional windows on each side, making 14 total versus the ten of the King Air 300. Like the earlier models in the series, the King Air 350's cabin features a private lavatory and built-in refreshment center.
Many clients are surprised by the roominess of the King Air 300 and 350. The cabin size is often larger than Light Jets offered in the on-demand charter market, or very similar, but for much smaller price tag.
King Air 350 Performance
The King Air 350 flies on two Pratt & Whitney PT6A-60A engines, which along with the aircraft's fowler flaps and rugged dual-wheel main landing gear, allow it to operate on runways of only 3,300 feet. Other improvements include added winglets and increased maximum takeoff weight. The 350's flight deck is equipped with the Rockwell Collins ProLine II avionics suite, and since 2003, new aircraft come with the Rockwell Collins Pro Line 21 avionics suite.
Variations on the King Air 350 are the 350C (also known as the Model B300C) which has a large cargo door, and the 350ER (for extended range) with further increased maximum takeoff weight, a belly cargo pod, heavy-weight strengthened landing gear, and extra fuel capacity. The latest development of the 350 is the King Air 350i, which includes such cabin enhancements as the Rockwell Collins Venue integrated cabin management system, the Beechcraft FlexCabin system for easier cabin rearrangement, and reduced cabin noise.