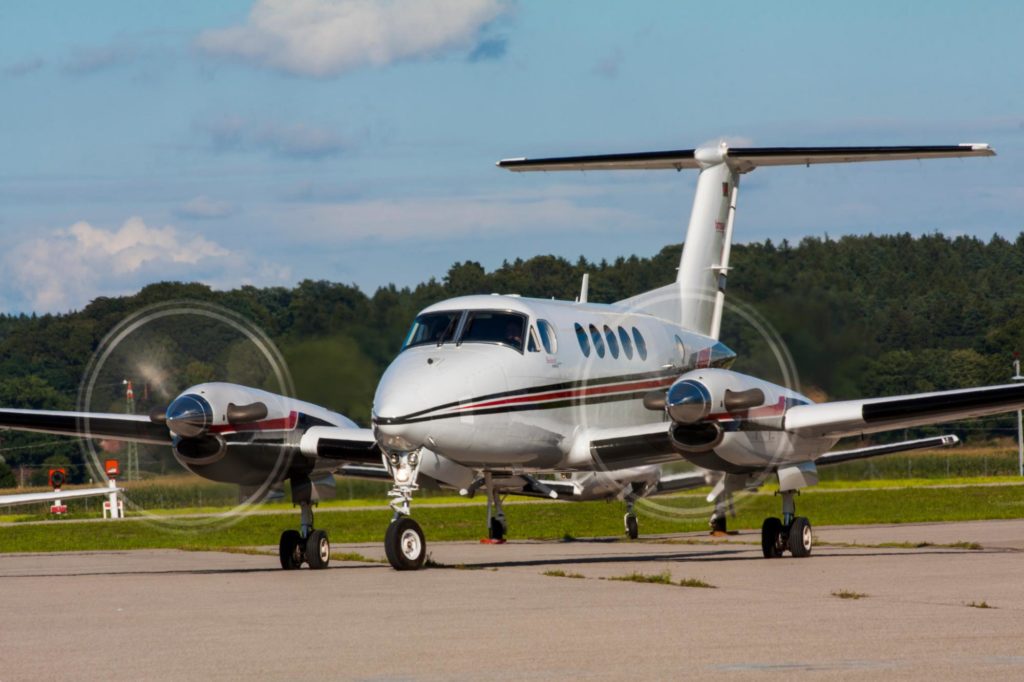 King Air 200 Overview
The Beechcraft King Air 200 is easily the most well-known and trusted name in the Executive Turboprop class today. With over 35yrs of continuous production and a fantastic safety and maintenance record, a King Air 200 can be seen flying over any major city on any given day. Perfect for short to mid-range trips and an economical option in today's charter market, charter a King Air 200 for your next trip.
King Air 200 Interior
The King Air 200 uses electronically tuned vibration absorbers to decrease noise throughout the cabin and flight deck. The AirCell ST3100 iridium satellite telecommunications systems is available aboard many of the newer aircraft produced from 2005. All King Air 200s have increased cabin pressurization over the earlier 100 series.
Most King Air 200 models are configured for 7 full seats plus 1 lavatory seat, but some have 8 full seats plus 1 lavatory seat. While the King Air 200 is certified for single-pilot operations, all King Air 200 charters are flown with two crew when you book with evoJets.
King Air 200 Performance
The initial changes over the 100 series introduced by the first 200s were the T-tail, a greater wingspan, higher fuel capacity, and increased operating weights. The aircraft also used uprated Pratt & Whitney Canada PT6A-41 engines. The B200's engines were upgraded to PT6A-42s. This model and several of its derivatives were later fitted with a revised landing gear retraction system.
Sub-variants of the B200 were model B200C with an enlarged door for cargo, the B200T which has removable tip tanks, the B200CT including both tip tanks and cargo door, and the B200SE special edition with an EFIS avionics suite. Other variations included some aircraft produced with a 13-seat high density configuration and a belly cargo pod. The latest version-the King Air B200GT-features Pratt &Whitney Canada PT6A-52 engines with increased performance and Collins Pro Line 21 fully integrated avionics.