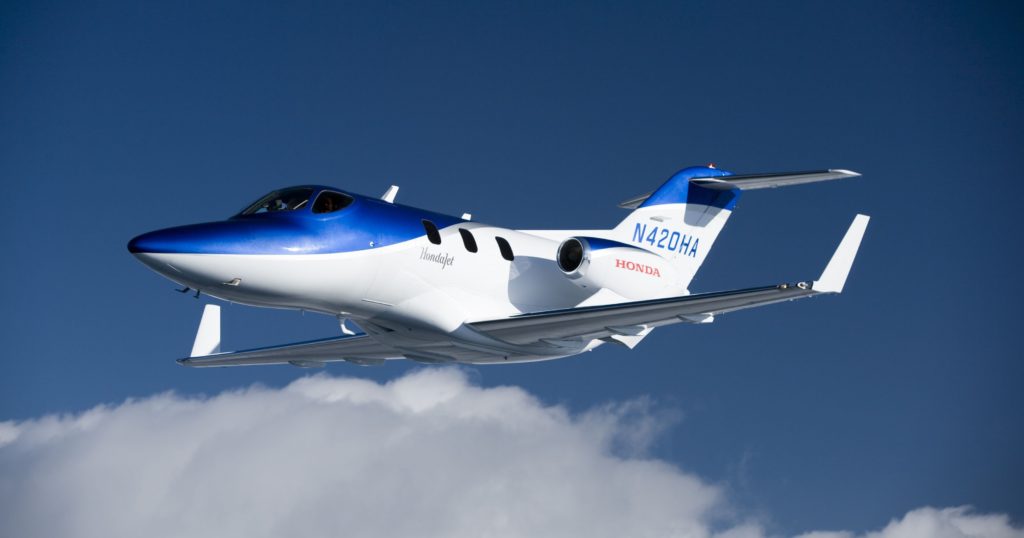 Honda Jet Overview
The HA-420 HondaJet is the first aircraft developed for commercial production by Honda Motor Company Ltd, known mainly for its automobiles. The corporate aircraft has a roomy cabin for a Very Light Jet (VLJ) – due to uniquely placed, over-the-wing engines – and seats four passengers comfortably.
Honda Jet Interior
The luxurious leather club-style seats of the HondaJet cabin slide and recline for traveler comfort. A fifth divan-type seat is available for an extra passenger. Stylish cup holders and fold-down tray tables are a part of the smooth cabin design. Even the enclosed lavatory gives the appearance of elegance while maintaining efficiency. Passengers will also appreciate the extra leg room, power window shades, dropped aisle, and several storage compartments about the cabin. The HondaJet has an external storage capacity of 66 cubic feet.
Honda Jet Performance
The HondaJet is powered by two custom GE Honda HF120 engines, a joint venture between GE and Honda. These engines use a Full Authority Digital Electronic Control (FADEC) system that is ultra-compact, the first such for its class. With these efficient engines, the HondaJet can fly at speeds up to 420 knots (483 mph). The engine placement above the wing reduces drag, and increases aerodynamic and fuel efficiency.
Other factors contributing to the HondaJet's impressive fuel efficiency are the materials used to make the fuselage and wings. A lightweight composite material makes up the fuselage, and the wings are made of single sheets of aluminum that have been structurally reinforced, resulting in a smoother surface than on traditional wings. Honda states that these features combine to offer a 30-40% higher fuel efficiency than comparable aircraft. Also, according to Honda, the aircraft produces lower emissions than any jet of its size.The HondaJet also employs a Garmin G1000 integrated glass cockpit.