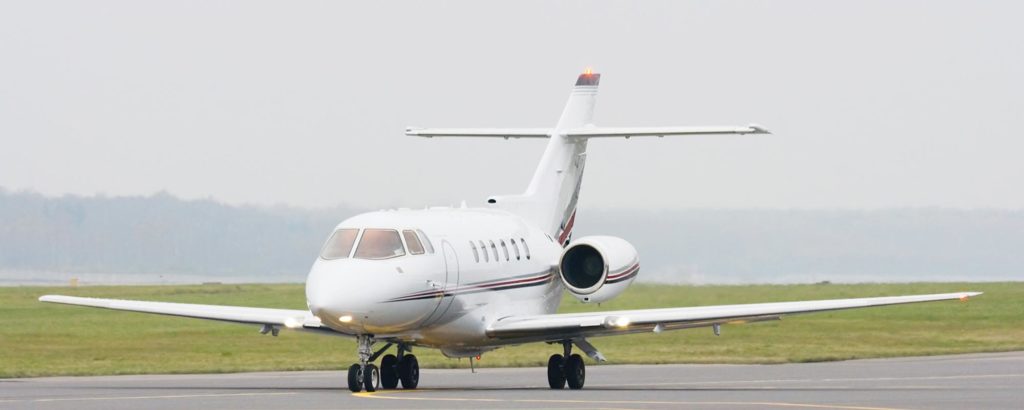 Hawker 800XP Overview
Building on the success of a proven model, Hawker/Beechcraft introduced the Hawker 800XP, an upgraded version of the beloved Hawker 800 Midsize Jet.
The best-in-class cabins of the two aircraft remain nearly identical, but the 800XP's 45 cubic foot baggage compartment was made to be accessible during flight, a major ergonomic upgrade. With upgraded engines and enhanced performance capabilities, the 800XP is a better version of an already successful aircraft.
Hawker 800XP Interior
The 800XP's cabin layout is the same as the 800, but can be reconfigured for up to 14 seats. In 1999, some details of the cabin were restyled, including a change from square interior window frames to oval, added sidewall lighting, redesigned and re-tailored passenger seats, and modification of the folding executive tables for easier access.
Boasting the largest cabin among all the major midsize jets in charter upon release, the 800XP provides a massive roomy feel for 8-9 passengers when filled to capacity, even today.
Hawker 800XP Performance
Two updated AlliedSignal TFE731-5BR engines were used for the Hawker 800XP, increasing cruise speeds, range, and climb performance, and reducing the necessary length for takeoff fields. Weight limits were also raised. Some of the external design features of the 800XP include low sweptback wings borrowed from the Hawker 1000 (without winglets, as opposed to the Hawker 800's design with winglets), rear-mounted engines, and a high tailplane. In 2002, the 800XP's avionics were upgraded to the Rockwell Collins Pro Line 21 avionics suite.
Two further variants of the 800XP were the Hawker 800XPi, Hawker 850XP and Hawker 900XP. Improvements on the 800XPi included avionics upgraded to the Rockwell Collins IFIS-5000 integrated flight system and Pro Line 21 CNS suite, more available baggage space, and the Rockwell Collins Airshow 21 cabin management system with individual LCD touch screens for each chair to control personal temperature, lighting, and entertainment. The 850XP brought back winglets from previous designs for another increase in range, employed updated avionics, and had a redesigned interior.