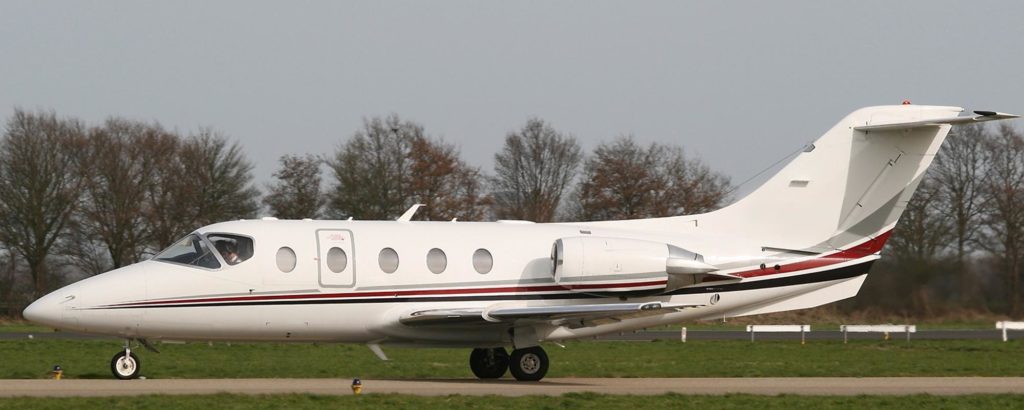 Hawker 400XP Overview
The Hawker 400XP is perhaps the most widely known and utilized Light Jet in the charter market today. With high marks in range, speed and cabin experience, the 400XP leaves little to be desired by business flyers and individual users alike.
The Hawker 400XP was designed by Hawker Beechcraft to be a light jet with some highly-valued qualities of a much larger jet: a spacious cabin and innovative technology. These attributes blend with the adaptability and low operating costs of similar light jets to offer passengers a safe and reliable flight directly to their destination of choice.
Hawker 400XP Interior
On board the Hawker 400XP, passengers will find a much larger cabin in comparison to other light jets, due to its unique shape – called "vertical squared-oval" by Hawker Beechcraft—and flat cabin floor.
The aircraft also contains four seats in center-club arrangement for in-flight meetings and overall seating for up to nine passengers. Travelers will take comfort in the option to make use of a sizable private lavatory as well as a convenient galley section. Luggage located in the expanded rear baggage hold is easily accessible during flight.
Hawker 400XP Performance
Hawker/Beechcraft upgraded the original Raytheon Beechjet 400A to the Hawker 400A for extra payload; meaning an increase in gross weight for either an extra passenger or extra fuel for a longer range.
The Collins avionics package installed in the Hawker 400XP's flight-deck features a traffic alert and collision avoidance system (TCAS II), an enhanced ground proximity warning system (EGPWS), and a built-in diagnostics system for superior dependability and lower maintenance costs.
Passengers will appreciate the added safety and security just as much as the convenience and luxury afforded by the Hawker 400XP.