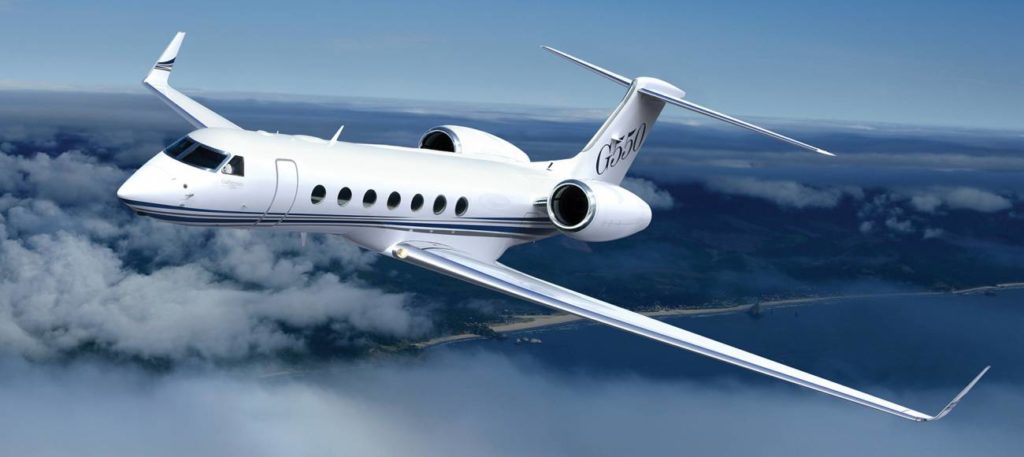 Gulfstream G-550 Overview
The Gulfstream G-550 is a longer range upgrade of the G-V. Just two weeks after it began service, a G-550 flew nonstop from Seoul, South Korea, to Orlando, Florida, traveling 7301 nautical miles in 14.5 hours – a record for that route.
Clients charter a G-550 to experience the ultimate in luxury and convenience, and as with all aircraft in their impressive line, Gulfstream delivers.
Gulfstream G-550 Interior
The G-550 has nearly the same cabin as its predecessor, typically seating 12-14 passengers, with a maximum capacity of up to 18. The aircraft offers the same wide variety of possible configurations for the luxurious, relaxing environment within. With a choice of 12 floor plan layouts which can include up to four distinct living areas, three temperature zones, club seating, lengthy divans, and a dining/conference area, travelers will have plenty of space to move and work.
Handy office features aboard the G-550 may include satellite communications, a wireless local area network, fax machine, printer, and Gulfstream's Broad Band Multi Link (BBML). The G-550 cabin also has an entertainment system with the Airshow passenger information system, DVD players, a CD player, and LCD monitors. Also standard aboard the aircraft are a fully-equipped galley, a luxurious private lavatory, and 14 large oval windows for maximum allowance of revitalizing sunlight.
Gulfstream G-550 Performance
One reason for the roomy cabin of the G-550 is the implementation of the PlaneView cockpit, which occupies 20 percent less space than the previous edition of avionics. The PlaneView cockpit avionics package is based on the Honeywell Primus Epic integrated avionics suite, and provides essential flight information to the pilots that reduces pilot workload and improves the level of situational awareness on the flight deck.
The same transcontinental-capable Rolls-Royce BR710 turbofan engines which power the G-500 are also found on the G-550, but with greater fuel capacity for that extra bit of range. The G-550 can effortlessly connect North America to four continents, enabling such flights as Washington, D.C., to Dubai, London to Singapore, and Tokyo to Paris. The aircraft can fly well above turbulence, foul weather, and commercial traffic.