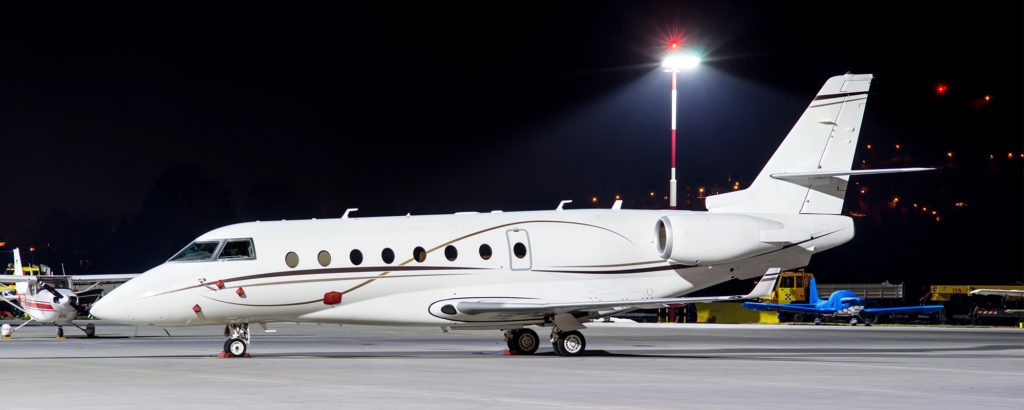 Gulfstream G-200 Overview
The Gulfstream G-200 was originally produced as the IAI Galaxy and later the IAI Astra. When Gulfstream purchased the rights and equipment from IAI, they upgraded all systems and released the G-100, G-150 and eventually the spectacular G-200, a larger, faster version of its predecessors.
With range, size and the overall performance and panache of the Gulfstream brand behind it, the G-200 is a leader in the Supermidsize class.
Gulfstream G-200 Interior
The large cabin in the G-200 can be arranged for 8 to 10 passengers with alternate seating for up to 18. Cabin seating can be configured in a double club layout, a combination club and divan arrangement, or a combination club, divan, and conference layout to suit travelers' needs.
The cabin has a stand-up height of 6 feet 3 inches, large plush seating, and sunny oval windows. A dual climate control system provides flyers with fresh air rather than recirculated air.
Gulfstream G-200 Performance
The G-200's technology and entertainment systems include Airshow flight info, an ICG-200 Iridium SATCOM phone, a DVD player and individual headphones/controls for each passenger. Beside each seat are individual power outlets for any office equipment. Some aircraft may offer the satellite-based High-Speed Data System (HSDS) for internet access. The external baggage hold can store 125 cubic feet or 2400 pounds of luggage.
Two fuel efficient Pratt & Whitney PW306A engines give the Gulfstream G-200 transcontinental range and strong hot and high performance. The aircraft flies evenly in all conditions on its heavy-load wings, and uses trailing link landing gear to make landings smooth. The glass cockpit is equipped with the Rockwell Collins ProLine 4 avionics suite.