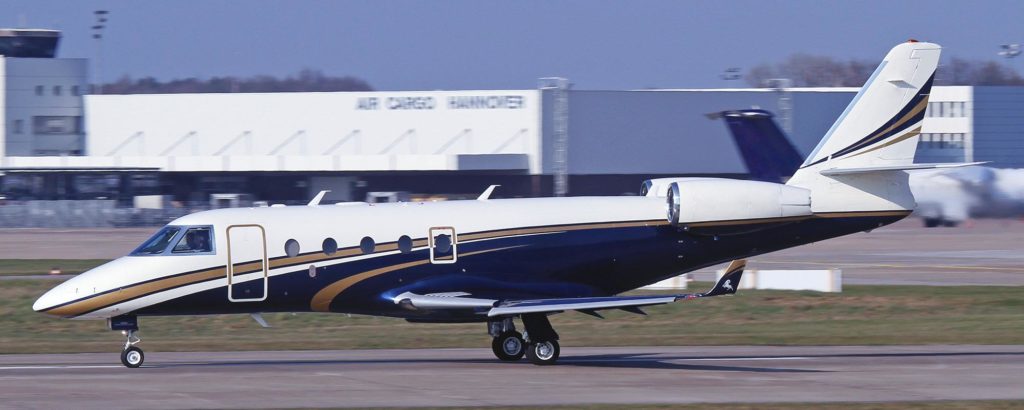 Gulfstream G-150 Overview
The Gulfstream G-150 provides excellent value in the Midsize class, with superior range at top speed, sophisticated avionics, and a truly comfortable cabin for up to eight passengers. This capable Gulfstream aircraft is the successor of the G-100.
Gulfstream G-150 Interior
The cabin of the G-150 is 5 feet 9 inches high and wide, and 17 feet and 8 inches long, making it larger and more oval-shaped than the G-100 in all directions. Passengers will enjoy generous stand-up headroom, legroom, and aisle space in any of several possible cabin configurations. There is also an extra 16 cubic feet of baggage space over the G-100. A Honeywell environmental control system keeps the cabin atmosphere pleasant and stable.
Gulfstream G-150 Performance
The G150 uses the high thrust Honeywell TFE731-40AR engines, with improved fuel efficiency. These, along with a number of aerodynamic improvements over the G150's predecessor, help make it one of the fastest mid-sized business aircraft available, at a maximum speed of 630 mph. The aircraft's maximum range is nearly 3400 miles, which is among the longer possible ranges for mid-size jets.
In the cockpit, the Rockwell Collins ProLine 21 avionics system is more developed and advanced than the ProLine 4 of the G-100, and includes some of the superior technologies that are also built into Gulfstream's PlaneView cockpit. These upgrades greatly enhance flight-crew performance and overall flight safety.