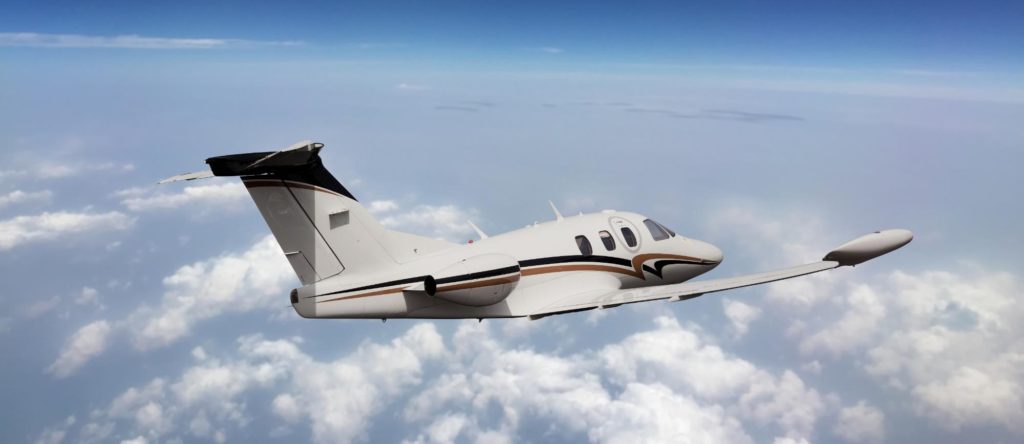 Eclipse 500 Overview
The Eclipse 500 is a four-passenger very light jet designed by Eclipse Aviation with highly innovative systems. This aircraft is perfect for short to mid-range trips and functions well on short runways and in adverse atmospheric conditions.
Eclipse 500 Interior
The Eclipse 500's stylish cabin contains four leather club seats with folding tables. Features include sound proofing, LED lighting, air conditioning, power outlets, and 26 cubic feet of baggage space. There is no lavatory on board.
For short trips with 4 passengers or fewer, many flyers find fantastic value in the Eclipse verse traditional light jets which are much more costly to operate.
Eclipse 500 Performance
The impressive Avio NG Total Aircraft Integration system centrally controls a number of flight and internal systems and the engine-protecting PhostrEx fire suppression system are two of the most impressive features in the VLJ class.
The cabin pressure and temperature are just two of the systems controlled by Eclipse Aviation's exclusive Avio NG. It also controls engine operation, the fuel system, landing gear, and avionics of the Eclipse 500, while also serving as a virtual copilot with checklists and navigation capabilities.
The Eclipse 500 can be considered one of the more environmentally friendly aircraft available, as it produces less carbon dioxide emissions by burning less fuel and also emits far less engine smoke.