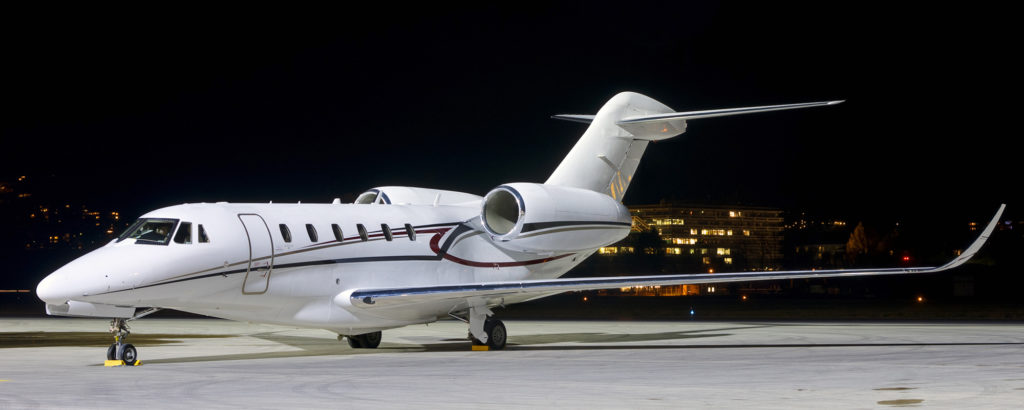 Citation X Overview
Upon its original release in 1996, the Citation X was the largest of Cessna's fleet, with the highest speed and greatest range of any jet in the Supermidsize class. Built for long-range performance at incredibly high speed, the Citation X remains one of the fastest aircraft available in the charter market today.
Citation X Interior
The stand-up cabin in the Citation X seats eight passengers comfortably and the aircraft's luggage compartments are heated and pressurized to keep baggage in top shape. The Citation X's eight executive, fully reclining seats are arranged in double club configuration.
The cabin includes a private lavatory with plenty of space to double as a dressing room. There is also a full galley and a closet for coats and small bags. The aircraft has 82 cubic feet of space for up to nearly 770 pounds of luggage.
Citation X Performance
A number of carefully calculated items went into making the Citation X one of the fastest private business jets available today, including its two FADEC-equipped Rolls-Royce AE3007C1 engines, highly swept wings and T-tail, and area-ruled fuselage for efficient transonic flight designed through the use of Computational Fluid Dynamics. These attributes combine to produce an aircraft capable of speeds up to Mach .92 (about 604 mph), supreme fuel efficiency, and an excellent range making transcontinental flights across the US and trans-Atlantic flights a great option. The Citation X also features a glass cockpit with a Honeywell Primus 2000 EFIS avionics suite.