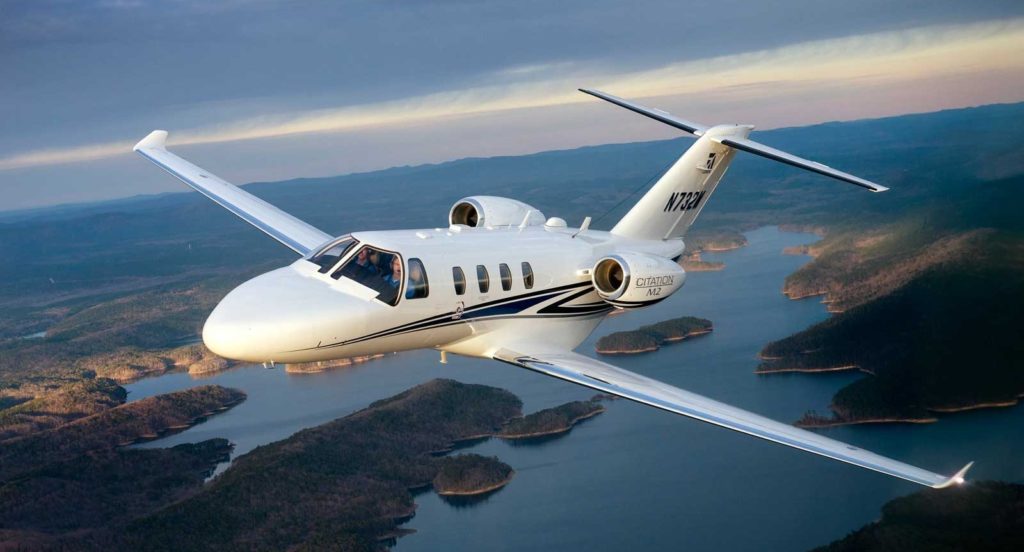 Citation M2 Overview
Launched in 2013, the Cessna Citation M2 is a new line of light jet developed from the model 525 CitationJet or CJ1. With a redesigned interior, a sleek and spectacular exterior, enhanced performance, and advanced avionics, the Citation M2 is entirely new kind of light business jet. With artistic beauty and top of the line speed, the Citation M2 provides a stylish and comfortable ride.
Citation M2 Interior
With seating for up to six passengers, the 11 foot cabin is designed to maximize space, and with a height of 57 inches there is significant headroom for most passengers. The M2 Citation comes with four large leather club seats and an additional jump seat in most configurations. Eight large windows help give the cabin a spacious atmosphere, and the jet is usually = equipped with Clarity Wireless which provides Wi-Fi for all entertainment and business needs.
Citation M2 Performance
Performance is where the Citation M2 really shines. The jet is equipped with two advanced Williams International FJ44-1AP-21 turbofan engines which provide thrust of almost 2000 pounds of force. This powerful jet can reach speeds of 400 knots with a maximum range of over 1500 nautical miles.
The Citation M2 is also equipped with state of the art avionics. The Garmin G3000 is precise touchscreen technology that provides ease and precision control, resulting in safer and more efficient flying.
The Citation M2 is a beautiful, fast, and innovative plane. It is the cutting edge of light jet travel. To arrive at your next destination quickly and in style, contact evoJets and book a Citation M2 experience today.