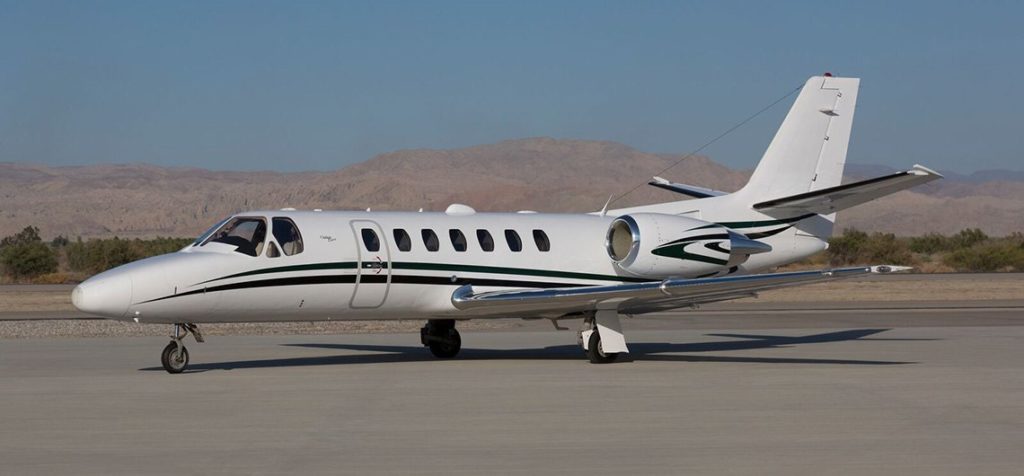 Citation Encore Overview
After the Cessna Citation Ultra came the Citation Encore in the late 1990s. Enhancements at the time included upgraded engines, trailing-link landing gear, higher fuel capacity, and a modernized interior.
Citation Encore Interior
Passengers board the Citation Encore by way of the new airstair entrance. Their extra luggage will be safely stored in the 43 cubic feet of external baggage space—some of the largest external storage in the Encore's class.The cabin remains the same size as those of the Citation V and Ultra, however the interior has been freshly redesigned.
Up to eight passengers can feel at ease in executive swivel seats with tracking in four directions. A large refreshment center, 14 windows, and an enclosed private lavatory with storage for toiletries add to the comfort of the cabin. Travelers can also access the 110-volt power supply and a satellite telephone with a fax port to keep working as they fly.
Citation Encore Performance
Cessna has recently made further improvements to this aircraft, now calling it the Encore+. The avionics and engine have been upgraded once again, reducing pilot workload and increasing the range and performance of the aircraft. The weight capacity of the Encore has also been raised.