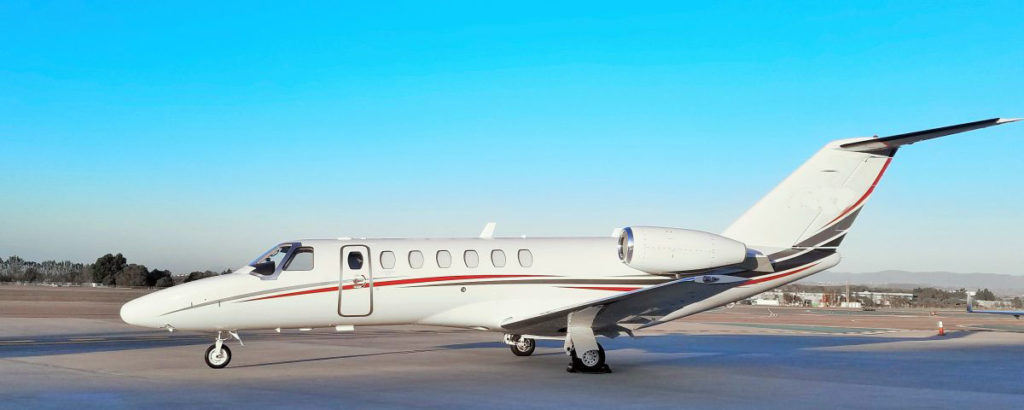 Citation CJ3 Overview
First Available in 2002, Cessna's Citation CJ3 was designed to be more economical than other jets in its class, including its predecessors in the Citation Jet series which were already known for high performance and low operating costs.
The endeavor was a massive success for Cessna, with the CJ3 being one of the most widely recognizable light business jets in the industry today.
Citation CJ3 Interior
Despite a focus on improving performance and exterior design, the interior of the CJ3 also took a major step forward from previous CJ models. The cabin is longer, with redesigned lush seats that track on two axes to allow for added comfort and space. These seats are normally configured with six places in a center club layout, but can be rearranged for seven or eight passengers.
The cabin also includes a refreshment center with a storage cupboard containing adjustable shelves. Natural light illuminates the cabin through fourteen windows and overhead LEDs have been reconfigured to make the cabin seem even more spacious. In-flight productivity is accommodated by foldout tables and several 110-volt AC power outlets.
Citation CJ3 Performance
The CJ3 has engines that are both more powerful and more fuel-efficient than those of the CJ2. It can carry more weight further and faster, while still being able to land on the shorter runways in airports closer to travelers' destinations.
Among the new flight systems on the CJ3 is the Pro Line 21 avionics suite which aids situational awareness and data management. The aircraft is also equipped with FADEC & full-authority digital engine controls – which maximizes engine efficiency through digital control over power output. The improved exterior design of the CJ3 includes longer wings which have been termed 'natural laminar flow'. This factor adds to the superior fuel-efficiency of the aircraft by raising lift-to-drag performance.